Hour 1 – John J. Higgins and Barb Adams, The Fog of Trump and Week in Review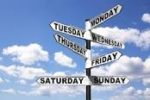 JOIN Barb and John as they tackle some of the top stories of the week, offering their own insights and opinions.
Hour 2 – Cory Doctorow, Radicalized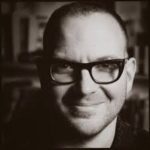 Joining the show during the second hour is New York Times bestselling author and futurist, Cory Doctorow. Cory will be discussing Radicalized, which offers a look at America's near future from the social and technological changes happening right now.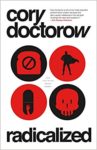 From violent police and mass surveillance to refugee crises and domestic terrorism, Doctorow tackles today's ceaseless headlines to reflect what they could mean for tomorrow's news cycle.  His book, Radicalized, is four novellas that together explore the economic, social and technological themes underlying today's America.
Cory Doctorow is renowned for his thought-provoking and philosophical takes on science, tech, privacy, free speech, and politics.  Radicalized is one of his most fascinating books yet, and also one of the timeliest, offering looks at trends we are in the midst of today.
During the interview, Doctorow will discuss such topics as
–How technology could be used to control people with software they must pay for to fun toasters, dishwashers, etc. in their own homes.
–Why mass surveillance and the privatization of military forces could usher in a bleak time for the country.
–What unchecked health insurance companies could do to create a world where none of us can be cured.
–That current technological trends could start pitting the survival of one person against the survival of entire communities.
–Cory's own struggle against being afflicted by the constant and pervasive "24-Hour News Cycle" that none of us can escape anymore.
Cory Doctorow is a co-editor of Boing Boing, a special consultant to the Electronic Frontier Foundation, an MIT Media Lab Research Associate, and a visiting professor of Computer Science at the Open University.  His award-winning novel Little Brother and its sequel Homeland were NYT bestsellers.  His other novels include Walkaway, Down and Out in the Magic Kingdom, Eastern Standard Tribe, and more.  Born and raised in Canada, Doctorow lives in Los Angeles.
For more information, visit www.craphound.com.
NOTE: Ken Goldstein Comments (Journalism in America) originally aired August 4, 2018.
Share this post...