August 11, 2012   Archives/Pod casts           Hour 1 –   Hour 2 –   Hour 3
Hour 1:  Bev Flaxington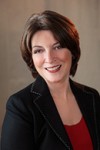 Joining the show during the first hour is behavioral expert, Beverly Flaxington, to discuss her recent book, Make Your SHIFT:  The Five Most Powerful Moves You Can Make to Get to Where YOU Want to Go, and how to recognize the signs of burnout and reverse it.
According to workplace behavioral expert Beverly Flaxington, most people don't realize that burnout happens when people lose self-confidence. By adopting some simple strategies to rebuild self-confidence, they can once again feel energized, resourceful, and inspired in their jobs.
Bev will share seven surprising ways to prevent and reverse workplace burnout, including how to address some underlying causes of burnout while you sleep; how risk taking, rather than risk avoidance, builds confidence; and simple strategies to fight burnout.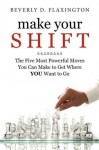 Beverly Flaxington is a Certified Professional Behavioral Analyst (CPBA), hypnotherapist, award-winning author of five books, including her latest Make Your SHIFT, and business advisor who specializes in helping individuals deal with workplace behavioral issues, performance, and goal achievement.
Beverly co-founded The Collaborative in 1995.  In 2008, the firm launched a new venture, Advisors Trusted Advisor, to meet the specific needs of independent investment advisors and wealth managers. Prior to co-founding The Collaborative, Beverly held several senior level sales, business development and business operations positions within John Hancock Financial Services' Investment Sector. Beverly's corporate background also includes executive search and retail banking.
Beverly holds both a BSBA and an MBA from Suffolk University.  She is a frequent speaker at investment industry events. Beverly and her partner, Mike Slemmer, CFA, have written a regular column for Family Wealth Report and have been featured in articles in Fundfire, Advisors' Perspective, Investment News, Investment Advisor and the Financial Planning Association's Solutions Magazine. Beverly is also a member of the Mental Health Counselors Association of America.
Beverly is an adjunct professor at Suffolk University teaching undergraduate and graduate students.   Since 1991 Beverly has offered training and one-on-one consultation for individuals to accomplish behavior modification in a variety of arenas.  Beverly is a Certified Professional Behavioral Analyst (CPBA) and Certified Professional Values Analyst (CPVA) and uses the tools frequently in her work with clients. She is an accomplished facilitator, trainer, and public speaker.
For more information about Beverly Flaxington, please visit her website at http://www.the-collaborative.com/.
Hour 2:  James Kunstler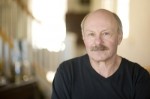 In April of 2005, James Howard Kunstler's bestseller,
The Long Emergency,
became a phenomenon.  Kunstler's shocking vision for our post-oil future caught the attention of environmentalists and business leaders and was the subject of much debate, stimulating discussion about our dependence on fossil fuels.  In the seven years since its first publication, many of Kunstler's warnings from
The Long Emergency
have proved prophetic, and now, in his latest book,
Too Much Magic:
Wishful Thinking, Technology, and the Fate of the Nation
(Atlantic Monthly Press; July 3, 2012; 978-0-8021-2030-4), Kunstler argues there is now compelling evidence that the long emergency – a period of increasing resource shortfalls, gradual economic decline, and a forced change in humanity's lifestyle – has already begun.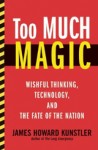 Having passed peak oil and living in the wake of recent hurricanes, tsunamis, droughts and other natural disasters, we cannot afford to engage in "wishful thinking" – relying on the idea that technology will deliver us from our myriad problems.
James Kunstler will discuss:
The fiasco of suburbia and how it is destined to erode and decay. The imminent end of the "suburban sprawl-building economy" and the ensuing demographic shift and mass migration will be one of the defining features of America's experience of the long emergency.
How we're living in a world with an endless financial crisis, which can be viewed as an extension of peak oil, climate change, and population overshoot, coinciding with implacable cycles of history.
Global demand for oil is now hovering above total oil production and, with this gap only getting wider, no alternative energy source will be able to close it.
The imperative – and the inevitability – that we must re-scale human endeavor to halt the devastating effects of climate change and cope with the end of fossil fuels.
James Howard Kunstler was born in New York City in 1948. He is the author of eleven novels, including World Made By Hand and The Witch of Hebron, and four nonfiction books, including The Long Emergency. He has become a key commentator on the future, profiled in The New Yorker and invited to speak at TED and other events across the country.  He lives in Washington County, New York.
For more information about James Howard Kunstler, please visit his website at:
www.kunstler.com
.
No Phone Calls Please, as The Interview is Pre-recorded.
Hour 3:  Re-broadcast of January 14, 2012, show with Dr. Eileen Silva

Share this post...