Photo is Adam Apollo, Hours 3 – 4
May 15th, 2010  Podcast/Show Archive  Hour 1 – Hour 2
Our first guest for May 15th, 2010, is Michael Hoefler, a water dowser for 25 years who also does energy healing (17 years) and teaches classes, lectures, and holds workshops on dowsing.  Michael has also been doing Transcendental Meditation for over 40 years, which he teaches as well.  Michael currently lives in the Bitterroot Valley of Montana (since 1997) with his wife of 30 years, Jane.  He grew up on a farm in northeastern Colorado where dowsing was accepted.  Michael graduated from Colorado State University in 1972 with a degree in Agriculture, which he used on his own farms in northeastern Colorado and then Bend, Oregon.  He has held positions as an Environmental Chemist in Portland, Oregon, and as a Grounds Supervisor for J. R. Simplot in Oregon.  Michael also has taught children's gymnastics for 12 years, with facilities in Seattle, Portland, and San Diego.
Of special note is the Time Window that has followed Michael and his wife since 1999 literally everywhere they go.  Michael will be discussing his Time Window as well as the energy implications of dowsing.
May 15, 2010  Podcast/Show Archive  Hour 3 – Hour 4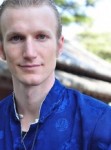 Adam Apollo is a theoretical physicist and researcher, exploring new developments in modeling our relationship with the Universe and applying these principles to new technologies.  Some of this research has also branched into Genetics, looking at the permutations of DNA and the ways that chemical, physical, and energetic changes can affect the genome.  These studies fuel Adam's vision of a sustainable, peaceful, and healthy planet and provide enrichment of his own metaphysical and spiritual growth.
Adam is founder and Executive Director of Access Granted, a multimedia educational resource development company.  In 2000, he co-founded and developed the C.O.R.E. (Consciously Organized Resonant Essence) community resource center in western North Carolina and the Tribes Club, a venue for large-scale events.  His experience also includes leadership training and organizational development, and he worked as Chief of Business Development for 2020 Strategies, in partnership with the 2020 Fund.
As a Galactic Ambassador and Earth Emissary, Adam's early foundation for his life-purpose focused on bridging science and spirituality through the integration of advanced physics (loop quantum gravity, string theory, quantum mechanics, and relativity).  During his studies at the University of North Carolina he furthered his integrative research into Astrophysics, Philosophy, Cultural Anthropology, and Psychology.  Adam has held council with indigenous elders from around the world, helped organize two prayer runs for world peace across North America, and smoked the White Buffalo Peace Pipe passed down 19 generations from the White Buffalo Calf Woman.  He regularly leads advanced self-development workshops coined "Jedi Training Intensives" guiding others in metaphysical and martial arts from past-life regression to high magic and Tai Chi to astral travel.  In 2005, Adam physically encountered a Galactic Ambassador, met ambassadors from 73 species of the Galactic Council, and recovered memories from several lifetimes before his journey to Earth.
An award-winning public speaker, certified massage therapist and energy healer, music producer, web developer, martial artist, swordsman, educator, and student of experience, Adam spends his time speaking and teaching internationally on subjects of planetary transformation, implementing extraterrestrial technologies, and the physical and spiritual transitions humanity faces at this time.
His websites are:  http://adamapollo.info
Share this post...