The montauk monster returns!
http://buzz.yahoo.com/buzzlog/92566/?fp=1
http://gawker.com/tag/montauk-monster/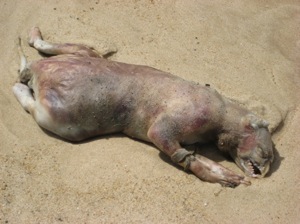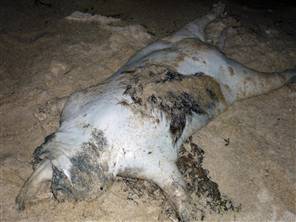 Crop circle 2009 has begun with some interesting, as usual, 'messages.'
http://www.halfpasthuman.com/swirlies/Clatford_a.htm
http://www.earthfiles.com/index.php?category=Headline+News
http://www.cropcircleconnector.com/interface2005.htm
Other News:
WASHINGTON – Under strong attack from Republicans, House Speaker Nancy Pelosi accused the CIA and Bush administration of misleading her about waterboarding detainees in the war on terror and sharply rebutted claims she was complicit in the method's use.
"To the contrary … we were told explicitly that waterboarding was not being used," she told reporters, referring to a formal CIA briefing she received in the fall of 2002.
Pelosi said she subsequently learned that other lawmakers were told several months later by the CIA about the use of waterboarding.
"I wasn't briefed, I was informed that somebody else had been briefed about it," she said.
The House's top Democrat made her comments at a news conference where she was peppered with questions about her knowledge of a technique she and others have called torture. Republicans have insisted in recent weeks that Pelosi and other Democrats knew waterboarding was in use but made no attempt to protest.
Pelosi's comments Thursday were her most pointed yet on the topic of what she learned about waterboarding and when.
In a written response issued moments after Pelosi spoke, an official at the CIA neither disputed nor accepted the California Democrat's statements.
"If you think you know how the competition is gonna turn out, think again," Ryan Seacrest ominously intoned at the beginning of tonight's all-important, pre-finale American Idol results show. And boy, he wasn't kidding.
Ryan also announced that 88 million votes had come in last night (seemingly 87 million of them from me, or at least that is how my poor, sore, Adam-loving dialing fingers felt this morning). Ryan also revealed that only 1 million out of those 88 million votes separated the top two vote-getters, meaning this was going to be one close competition. No one should be assumed a shoo-in, no matter how many Entertainment Weekly cover stories or how much gushingly biased Simon Cowell/Lyndsey Parker praise he (and by "he," I mean "Adam") had received thus far.
List of all Dealership Chrysler seeks to close by June 9th – takes a bit to load
NEW YORK – Chrysler LLC wants to eliminate roughly a quarter of its 3,200 U.S. dealerships by early next month, saying in a bankruptcy court filing Thursday that the network is antiquated and has too many stores competing with each other.
The company, in a motion filed with the U.S. Bankruptcy Court in New York, said it wants to shed 789 dealerships by June 9. Many of the dealers' sales are too low, the automaker said, with just over 50 percent of dealers accounting for about 90 percent of the company's U.S. sales.
Dealers were told Thursday morning through United Parcel Service letters if they would remain or be eliminated. The cuts are likely to devastate cities and towns across the country as thousands of jobs are lost and taxes are not paid.
Chrysler Vice Chairman Jim Press called the cuts difficult but necessary. He said the list of dealers is final and there will be no appeal process.
"This is a difficult day for us and not a day anybody can be prepared for," Press told reporters during a conference call.
A hearing is scheduled for June 3 in U.S. Bankruptcy Court in New York for the judge to determine whether to approve Chrysler's motion. Judges often rely on companies in bankruptcy to help determine what is in their best business interest, such as the closure of dealerships or cancellation of contracts.
KIRKSVILLE, Mo. – Violent storms tore through four Midwestern states, killing three people in northern Missouri, damaging dozens of homes and leaving thousands without power.
At least two tornadoes touched down in Adair County on Wednesday night, authorities said. In Kirksville, the twister damaged at least 60 buildings and scattered cars and glass across a car dealership. Ten homes were destroyed.
A couple living in a modular home died when their home "just exploded" from the force of the wind, said Adair County coroner Brian Noe. Gustavo Ochoa, a 47-year-old Bank of Kirksville vice president, and Alisha Brune, 29, were newly engaged and had bought the home just two weeks ago, Noe said.
To the west in Sullivan County, a 56-year-old woman died when her mobile home was thrown an estimated 40 feet by the storm, said emergency management director Rick Gardner. The woman's husband, who was working in his wood shop in an adjacent building, survived.
Don Williams rode out the storm in his basement with his wife and four children. He described a "wall of rain shooting sideways" that ripped the roof off his home.
"It just tore everything up," he said. "It was just a blur. Insulation and trees blowing everywhere. I could see stuff just flying through my house." The family spent the night in a motel and Williams told his frightened children, "Don't worry, we'll get a new house."
Six people were treated for storm-related injuries at Northeast Regional Medical Center, but their injuries were considered minor.
The Kirksville-area tornado was a half-mile wide and stayed on the ground for about a mile and a half, county officials said Thursday morning.
Free Lipitor, Viagra, other drugs for jobless
TRENTON, N.J. (AP) — Pfizer Inc. says it will provide 70 of its most widely prescribed prescription drugs — including Lipitor and Viagra — for free to people who have lost their jobs and health insurance.
The world's biggest drugmaker said Thursday it will give away the medicines for up to a year to Americans who lost jobs since Jan. 1 and have been on the Pfizer drug for three months or more.
The announcement comes amid massive job losses caused by the recession and a campaign in Washington to rein in health care costs and extend coverage. The move could earn Pfizer some goodwill in that debate after long being a target of critics of drug industry prices and sales practices.
The program also likely will help keep those patients loyal to Pfizer brands.
"Everybody knows now a neighbor, a relative who has lost their job and is losing their insurance. People are definitely hurting out there," Dr. Jorge Puente, Pfizer's head of pharmaceuticals outside the U.S. and Europe and a champion of the project, told The Associated Press in an exclusive interview Wednesday. "Our aim is to help people bridge this point."
The idea for the program came just five weeks ago, at a leadership training meeting, as the workers discussed how many patients are struggling, Puente said.
He said he urged top management to approve the program, presenting a recent Associated Press article about how newly uninsured diabetics are suffering serious complications because they can no longer afford the medicines and testing supplies. Approval came quickly.
"It was my idea," he said. "I floated it, and the reception it got was so dramatic that it very quickly became our idea."
Colleagues suggested employees could donate to a fund to help support the effort, Puente said. He said some employees had tears in their eyes when discussing how they could help people who had lost jobs.
Officials for New York-based Pfizer said they don't know how much the program will cost and haven't put a cap on spending for it.
Applicants will have to sign a statement that they are suffering financial hardship and provide a "pink slip" or similar employer notice. Applications will be accepted through Dec. 31, with medication provided for up to 12 months after approval — or until the person becomes insured again.
Starting Thursday, patients can call a toll-free number, 866-706-2400, to sign up, and those whose drugs are not included in the program will be referred to other company aid programs. Starting July 1, patients can also apply through the Web site, http://www.PfizerHelpfulAnswers.com, which has information about the other Pfizer aid programs.
Pfizer and the rest of the drug industry are trying to have a voice in the debate over how to overhaul the U.S. health care system, partly by joining in a pledge this week to help hold down inflation of health costs.
"There's a long-term benefit there, beyond the goodwill and the publicity," said David Heupel, health care portfolio manager at Thrivent Large Cap Growth Fund. "Pfizer is trying to maintain their (market) share, if not grow their share" by keeping people from switching to generic versions of its drugs to save money.
"If you're already taking medication that's working, typically doctors don't push to change it," Heupel said.
Pfizer's program comes at a time when many drugmakers, including Pfizer, have been raising prices on their drugs, partly to offset declines in revenue as the global recession reduces the number of prescriptions people can afford to fill.
The 70-plus drugs covered in the program include several diabetes drugs and some of Pfizer's top money makers, from cholesterol fighter Lipitor and painkiller Celebrex to fibromyalgia treatment Lyrica and Viagra for impotence. Drugs from several other popular classes such as antibiotics, antidepressants, antifungal treatments, heart mediations, contraceptives and smoking cessation products also are included. Cheaper generic versions are available for quite a few of the drugs.
Pfizer said that from 2004 through 2008, its patient assistance programs helped 5.1 million people get 51 million Pfizer prescriptions for free or at reduced cost, with a total value of $4.8 billion.
From Goeoge Ure's www.urbansurvival.com/week.htm
Global flu tracker numbers since May 1st.
Here's my latest back of the envelope on this stuff: 
Total deaths so far:                     72
Total Cases:                               8,451
Less 0 Death countries:       3,337
subtotal                                      8,114
Divided into 72 deaths             0.88%
| | | | |
| --- | --- | --- | --- |
| Date | Est. Mortality* | Cases Total | % Case Change |
| May 16 | 0.88% | 8.451 | +12.4% |
| May 15 | 0.9% | 7,520 | +15.7 |
| May 14 | 1.04% | 6,497 | +13.4% |
| May 13 | 1.12% | 5,728 | +9.1% |
| May 12 | 1.20% | 5,251 | +18.0% |
| May 11 | 1.26% | 4,450 | +29.4% |
| May 9 | 1.48% | 3440 | +45.1% |
| May 8 | 2.21% | 2,371 | 12.9% |
| May 7 | 2.51% | 2,099 | +38.5% |
| May 6 | 2.45% | 1516 | + 34.8% |
| May 5 | 2.97% | 1124 | + 14.1% |
| May 4 | 3.19% | 985 | +60.1% |
| May 2 | 2.974% | 615 | +85.8% |
| May 1 | 3.77% | 331 |   |
From a long-term perspective, gold is a bargain at recent prices in the $900 to $930 an ounce . . . and will remain so even as it begins to move into a higher trading range.
Recent gold-market developments and technical price action – along with broader economic and financial-market developments – suggest gold is bracing for a resumption of its long march upward and a retest of its historic high in the months ahead.
First and foremost, the bullish outlook for gold rests on the increasing likelihood of accelerating U.S. inflation in the years to come – and an associated unprecedented rise in investor demand for the yellow metal.
This nascent inflation has not yet been reflecting in world financial markets. But, judging from anecdotal evidence and the financial press – and the warnings of a growing number of institutional investment managers – we believe a gradual, subtle, but important, upward shift in inflation expectations is already under way.
Inflation doves (and others fearing imminent deflation) point to the currently low, almost negligible, rates of consumer price inflation and the narrow interest-rate spread between ordinary US Treasury securities and US Treasury Inflation-Protected Securities (TIPS) as evidence that inflation and inflation expectations remain subdued. This – along with other important factors that we'll discuss in subsequent posts – has helped keep gold prices down in recent months.
We think those looking at the US Consumer Price Index are focused on the wrong inflation indicator. Instead, a look at the gross domestic product price deflator, a broader, more reliable, and less volatile inflation indicator – rising at an annual rate of 2.9pc in this year's first quarter – should be enough to put fear in the hearts of economic policy-makers . . . but, as far as we can tell, they're looking at the CPI and still worrying more about deflation.
Importantly, in our view, if only a small percentage of investors become worried about inflation, gold could, and likely will, benefit long before any sign of a broad-based rise in inflation expectations appears in the interest-rate differential between ordinary Treasury securities and TIPS, the so-called TIPS spread.
Because of the relative size of the markets, a small shift of investor interest toward gold can have a magnified effect on the metal's price . . . but the same small shift in interest away from ordinary Treasury securities in favour of TIPS may have no noticeable impact on relative interest rates between the two types of securities.
Similarly, even a small reallocation of investment funds away from equities or corporate bonds or other "conventional" assets because of rising inflation or inflation expectations (or for any other reason) into gold may be a big deal for the gold market without producing much of a negative effect on other asset markets.
In other words, by the time the broad financial markets register a worsening of inflation expectations gold will have already made a major move to the upside. It provides an early warning or leading indicator of inflation, signalling the coming acceleration long before financial markets begin to quiver.
Fuel for the Fire
As sure as night follows day, the Federal Reserve's purchase of bonds and home mortgages and the resulting rapid increase in bank reserves (quantitative easing in Fed-speak) – unless soon reversed – is underwriting a coming acceleration of inflation.
And, with a consensus in Washington and around the country that the quickly expanding Federal government deficit should be financed by central bank purchases of Treasury securities, there seems little likelihood that quantitative easing will be replaced with quantitative tightening until well after inflation has accelerated to disturbingly high rates.
President Obama's own Office of Management and the Budget (OMB) now estimates a Federal budget deficit of $1.84 trillion for the current fiscal year ending September 30. This is equivalent to 12.9pc of the overall economy or gross domestic product – and, by this measure, the biggest deficit since World War Two. Early estimates for next year put the deficit at 8.5pc of GDP.
Many economists generally consider that a country's deficit should not exceed three pc of GDP. Whatever the appropriate ratio, for sure this year and next, the Federal government deficits will remain beyond the norm and will require massive Federal Reserve purchases of Treasury securities in order that interest rates remain low enough to accommodate economic recovery.
Jeffrey Nichols, is managing director of New York-based American Precious Metals Advisors
You might expect a few mistakes — and a little fraud — to crop up in the 52 million stimulus checks that the government has sent out. But a new report from Fox News may have people gasping: Millions of dollars in stimulus checks may have been sent out to between 8,000 and 10,000 dead people.
The Social Security Administration says that this could have happened because they had no record of these people's deaths, but even more curious, Fox News said that at least one of them never even collected Social Security benefits.
That person was a U.S. citizen but left for Italy in 1933 and only returned to the U.S. for a seven-month visit in 1969. Antoniette Santopadre of Valley Stream, New York told Fox she was expecting a check but didn't get one. Instead a check was sent to her husband, Romolo Romonini who died in Italy 34 years ago.
Share this post...