March 9, 2013 – Archives/Pod Casts            Hour 1 –   Hour 2 –   Hour 3
Hour 1:  David Houle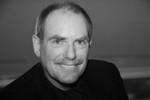 Joining Amerika Now during the first hour of the show is America's leading futurist, David Houle, who will be discussing his latest book, Entering the Shift Age.
David is considered one of the preeminent futurists in the world today.  As a thinker about the future, corporations and institutions around the world have retained him due to his high-level insights and forecasts about the future.  As a speaker, David has delivered more than 400 speeches on all six inhabited continents and in twelve countries.  He has called this new age we are now in "The Shift Age."
Change is everywhere:  It is in how we communicate, what we do for a living, the values we hold, the way we raise our children, even the way we access information.  Thanks to a global economy, the force of the Internet, and the explosion of mobile technology, we have–almost imperceptibly–entered into a new era, The Shift Age.  Houle says we have left The Information Age and entered The Shift Age, a world where the speed of change is so fast that change itself is the new norm.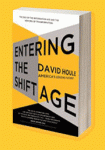 The Shift Age will be defined by our own power of choice.  David argues that we are going through a major collapse of legacy thinking, eroding many of the thought structures that have defined the last 200 years of humanity.  He'll share his thoughts and explain the new forces that will shape our lives for the next 20 years and beyond.  His blueprint for the future encompasses healthcare, energy and the environment; technology, brands and marketing; new models for education and the arts; big data and how it will transform the way we view ourselves; and the ascendency of women, and how the shift in gender roles will change 1,000 years of history.
So what will the world look like in the next decade?  It would seem to be impossible to predict, since almost every part of our culture is in some relative rate of shift.  We are at a major inflection point in human history.
In the tradition of Alvin Toffler and Marshall McLuham, futurist Houle has become a visionary for this world.
David Houle is the Futurist in Residence and Guest Lecturer at the Ringling college of Art + Design.  He's been called the "CEOs Futurist," having spoken to or advised more than 2,000 CEOs and business owners on six continents.  David is also the author of the highly regarded blog Evolution Shift (www.evolutionshift.com), and has contributed to NPR, O The Oprah Magazine, and The Huffington Post. Houle spent more than 20 years in entertainment, having worked at NBC and CBS, and was part of the senior executive team that launched MTV, Nickelodeon, VH1, and CNN Headline News.  He's also the author of three previous books, The Shift Age, Shift Ed, and The New Health Age, as well as a presenter on TED.
A sought-after lecturer, David was recognized as Speaker of the Year from Vistage International, the leading global organization of CEOs.
For more information about David Houle, please visit his websites at davidhoule.com and  evolutionshift.com.
Hour 2:  Dr. Joan C. King

International visionary, speaker, author, and coach Dr. Joan C. King joins Amerika Now during the second hour of the show to discuss her latest book, A Life on Purpose:  Wisdom At Work.
We live in a world in crisis.  We are faced with a crisis of security.  The real estate and banking systems are in turmoil.  Workers are being laid off in alarming numbers.  People still on the job wonder if they will be next, as they attempt to juggle their jobs as well as the jobs of those no longer employed.  Those laid off are uncertain that they will find employment in a shrinking job market.  We are faced with a crisis of identify, of values, and of our relationship with our inner most being.  Compounding all of this, there is a crisis of leadership, a woeful lack of authentic leaders who are guided by their own integrity and alignment and who inspire integrity and alignment in those around them.  There is an epidemic crisis of meaning.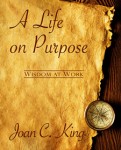 We are between stories.  The old story of how we understand the world and how we fit into it is no longer effective.  We have yet to learn the new story.  Dr. King has written her book, A Life on Purpose, to help us all do what we were born to do by finding and engaging in a life on purpose through writing a new story for ourselves, our work, and the world.
Dr. Joan C. King's background includes years of spiritual studies in the Dominican Convent, followed by years of extensive scientific research in a medical school environment.  Neither experience alone fulfilled Joan's yearning, until she integrated the two in the concept of "cellular wisdom" explored in her books.  A Life on Purpose is the third in the Cellular Wisdom series, which provides the foundation for Joan's coaching, coach training and mentor coaching, as well as her speaking and writing.
Joan left the convent and entered graduate school to study science more deeply as a way to examine the substance of life and human behavior and "what makes people tick." After obtaining a multidisciplinary Ph.D. in Neurosciences and Psychology from Tulane University, Joan was engaged in basic research in neuroscience for twenty-five years.A Professor at Tufts University Schools of Medicine in Boston for 20 years, Joan served as Chair of the Department of Anatomy and Cellular Biology for the Schools of Medicine. She envisioned and created a Multimedia Resource Center on the Boston campus and also developed and directed the Center of Research in Reproduction at Tufts University from 1992-1997.  Joan has now been engaged in scientific studies for nearly half a century.
In the course of her personal development, she began to utilize scientific principles as metaphors and tools to expand consciousness. Joan articulates her philosophy in scientific metaphors in her Cellular Wisdom series of books. Having experienced the processes of self-examination, self-reflection, and self-actualization, Joan designed and established a coaching service, Beyond-Success, LLC to assist others in these processes. In partnership with Dr. Sharyn Ann Lenhart, Joan established a second business, Transition Pathways, to help individuals create pathways for life enhancing career and personal transitions.
"Life emerges from the energy that emanates from an individual's core beliefs and the focus of their thinking." This philosophy in the grounding foundation of Joan's coaching work to help clients unfold aspects of their authentic selves, unmask limiting core beliefs, and recast them as actualizing principles, integrate deep understandings, and claim their creativity, in a process that leads to full, authentic self-expression.  Joan is a Master Certified Coach helping people to simultaneously achieve success and go beyond success to self-actualization.
Professional and personal coach, consultant, and workshop leader with twenty-five years as an educator, scientist, and administrator in universities and academic-based organizations, Dr. King is credentialed by the International Coach Federation.
For more information, please visit Dr. King's website at www.cellular-wisdom.com.
Hour 3:  Drs. Dennis Tirch and Paul Gilbert  (Encore presentation)
Link to original interview
https://barbadamslive.com/?p=5208
Share this post...