August 8, 2015 – Archives/Pod Casts   Hour 1 –   Hour 2  –  Hour 3
Hour 1:  OPEN DISCUSSION on Are We Wolves or Sheep?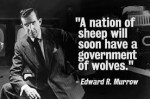 The cornerstone of American society for generations has been the Golden Rule:  "Do unto others as you would have them do unto you." The idea behind this teaching was to help maintain a healthy, civilized society–one that minimizes disruptive behavior.
But look all around in today's society and you'll see aggression and violence are on the rise:  bullying, crime, mass murders, police brutality, political corruption, economic injustices. These overt social and economic changes are altering our values and our society.  One need only look at rising police brutality as an indicator of our societal decline.  Unfortunately, there are numerous other examples.
We've become a nation dangerously divided and, as such, are falling into two categories: wolves and sheep. The moneyed elite (wolves) want us in fear and dependent on the government (ruled by the rich and powerful) for our "well-being."  Those in fear turn over their power and cease thinking for themselves (sheep), hoping for some form of security, not realizing they become expendable resources. As Edward R. Murrow said, "A nation of sheep will soon have a government of wolves."
As John W. Whitehead writes in his blog, They Live, We Sleep:  A Dictatorship Disguised as a Democracy (http://agovernmentofwolves.com), "What most Americans perceive as life in America–privileged, progressive, and free–is a far cry from reality, where economic inequality is growing, real agendas and real power are buried beneath layers of Orwellian doublespeak and corporate obfuscation, and "freedom," such that it is, is meted out in small, legalistic doses by militarized police armed to the teeth."
Vast segments of the political system, government and economy are now managed by private business interests (privatization).  Citizens United has given corporations (many multi-national) the same rights as individuals, allowing these moneyed interests to decide who we will "vote" for, corrupting our system.
Legislators who should be looking out for the common good for all of us are now beholding to those few moneyed interests.  Real leaders should be problem solvers and have an interest in developing the country instead of the desires of the special interests. As John J. Higgins says, "Governing should be a sacred trust."
Now is the time for We the People to find our voices and use them!  We're not sheep; we do have a say.  And we must not give up…for if we do, then we truly are the sheep and deserve what the wolves have in store for us.
JOIN Barb and John as they discuss Are We Wolves or Sheep?
CALL  800-259-5791  TO JOIN THE DISCUSSION.
Hour 2:  Phyllis King (RESCHEDULED TO OCTOBER 3rd)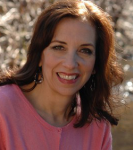 Prominent psychic and author Phyllis King joins Amerika Now during the second hour to discuss her book, The Energy of Abundance:  Practical Advice and Spiritual Wisdom to Achieve Anything You Want in Life.
Many people don't know why the "Law of Attraction" doesn't seem to work for them.  Happiness, love, and abundance are not easy to obtain simply by thinking about them.
Prominent psychic and author, Phyllis King, will explain how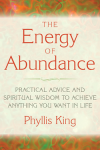 accessing your innate power source is the key to realizing your wildest dreams.  Based on her decades of experience coaching individuals and speaking to audiences throughout the  world, The Energy of Abundance is an insightful and humorous view of life, spirituality, and the achievement of our deepest desires.
King will discuss how to connect to an abundance core, master the art of receiving, attain the prosperity we all desire, connect with soul mate relationships, release beliefs that no longer serve, and discover a profound life purpose.
Known as the "Common Sense Psychic" and "Psychic Comedienne," King is the Founder of the King Mastery Institute. An intuitive coach, speaker, and radio host, she has mentored thousands of people over several decades. In addition, she consults with businesses and has used her skills in the corporate world, private sector, and in nonprofit work.
Phyllis has been featured on CBS and NBC and on radio programs across the country.  She has been published in more than 70 print and online publications and holds a BA in Sociology.
In addition to this latest book, King is also the author of The Heart of the Matter:  a Journey to Wisdom; Impressions:  Simple Truths for Practicing Abundant Thinking; A Psychic Perspective, 10 Steps to More Love, Wealth & Personal Happiness; and is the co-author of Collective Wisdom with Donald Gerard and Bouncing Back with Dr. Wayne Dyer.
For more information, visit http://www.phyllisking.net.
CALL  800-259-5791  TO SPEAK WITH PHYLLIS KING.
Hour 3:  Mr. Kiyoshi Shimada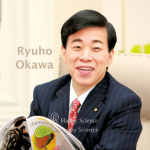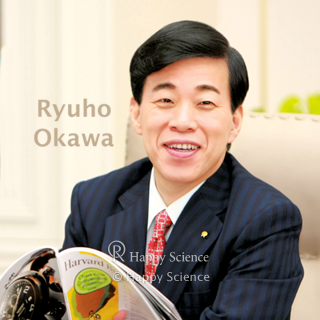 Joining the show during the final hour is the CEO of Happy Science USA, Mr. Kiyoshi Shimada, who will be discussing Master Ryoho Okawa's latest book, Messages from Heaven:  What Jesus, Buddha, Moses, and Muhammad Would Say Today.
If you could speak with Jesus, Buddha, Moses or Muhammad, what would you ask?  Master Ryoho Okawa, Founder of Happy Science, uses his spiritual power to communicate with these four spirits and shares their messages with all of us today.
Messages from Heaven offers spiritual wisdom and answers to the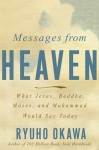 questions of the divine messages of love, faith, gratitude, and forgiveness from Jesus; answers on humility, kindness and enlightenment from Buddha; the meaning of righteousness, sin and justice from Moses; and tolerance, faith, spirituality and wealth from Muhammad.
Mr. Shimada will discuss the universal truths that thread between all faiths and offer insights to conquer our challenges that we face today.
Mr. Kiyoshi Shimada is CEO of Happy Science USA, North America.  He joined Happy Science as a priest in Japan and has been instrumental in helping Master Okawa with his overseas lectures.
Happy Science was founded by Ryuho Okawa in 1986 as a spiritual movement dedicated to bringing greater happiness to humankind. Happy Science is involved in various activities with a goal to overcome barriers of race, religion, and culture and work toward a world united in peace and harmony. Happy Science has grown rapidly since its beginnings in Japan and now extends throughout the world, supported by followers who live in accordance with Okawa's spiritual wisdom and philosophies on enlightenment. Today, there are twelve million members around the globe, with faith centers in major cities including New York, Los Angeles, San Francisco, Tokyo, London, Sydney, Sao Paulo, and Hong Kong. Okawa lectures around the world, and at Happy Science centers. Each center provides a variety of programs and services to support local communities, including preschools, after-school educational programs for youths, and services for senior citizens and the disabled.
For more information, visit http://happyscience-na.org/.
THIS SEGMENT WAS PRERECORDED.
Share this post...