Hour 1 – John J. Higgins and Barb Adams, Why We Can't Allow Trump's 'Normal' to Become Our "New Normal"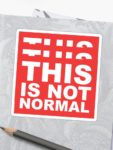 This week, in the span of less than 24 hours, 31 people were killed in two separate mass shootings in El Paso, Texas, and Dayton, Ohio. These shootings followed on the heels of an earlier mass shooting on July 28th in Gilroy, California, in which three people were killed (two of whom were children).  The Gilroy and El Paso mass shootings are being investigated as domestic terrorism and the Dayton shooting is being investigated as a hate crime.
While Trump did not pull the trigger in any of these acts of carnage, it's difficult to deny his rhetoric and actions have helped to incite an atmosphere in which these acts take place. From the time of his presidential run, when he called Mexicans rapists and criminals and encouraged his supporters to "rough up" protestors, to his now "presidential" rhetoric of repeatedly calling immigrants invaders who border patrol agents are powerless to stop because "we can't let them (agents) use weapons," Trump sends out strong messages to his followers (so-called "patriots") that they should be the ones to act.  And so they act.  The 21-year-old El Paso shooter billed his attack as a "response to the Hispanic invasion of Texas."
But the El Paso shooter isn't alone. For months, militia outfits have taken it upon themselves to patrol the border states, spurred on and empowered by Trump's hateful rhetoric. In April, the United Constitutional Patriots uploaded a video to social media in which they held 300 terrified asylum seekers on their knees at gun point. In the name of enforcing the law, these extremist groups are breaking the law and this administration is not only tolerating these actions, but seemingly encouraging it. One only need remember Trump's words in reference to Charlottesville, when he stated there were "bad (fine) people on both sides," normalizing white supremacists.
Authoritarians don't rely on state power alone to accomplish their ends. They use their rhetoric and actions to mobilize their followers to do their dirty work.  It's how, after the Civil War and the abolition of slavery, the Jim Crow South maintained its reign of racial apartheid.
Even under the guise of offering support, Trump couldn't stop being himself–politicizing the events and making everything about him. His first words in El Paso weren't about the victims or first responders, they were about what a "great reception and respect" he received and how "loved" he is. At the El Paso hospital, Trump chose to make false claims about his versus Beto O'Rourke's crowd sizes at competing rallies in February–this after quickly shaking hands with the doctors. Probably the most surprising, however, was a photo of Trump and Melania with an orphaned baby whose parents were both killed in the El Paso shooting. With Melania smiling brightly as she holds the baby in her arms, Trump flashes a broad grin and a solid thumbs up. It's hard to imagine anything more inappropriate, but this is 'normal' now with Trump.
Let's never allow this to become our new normal!
JOIN Barb and John as they discuss Why We Can't Allow Trump's 'Normal' to Become Our "New Normal."
Hour 2 – Joy Wiggins, Ph.D.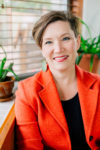 Joining the show during the second hour is author and Founder and Executive Director of Joy Wiggins, Ph.D., LLC, Joy Wiggins. Joy will be discussing her and co-author Kami J. Anderson's book, From Sabotage to Support: A New Vision for Feminist Solidarity in the Workplace.
In the workplace, women often sabotage other women, undermining each other in a battle for opportunities. The cause is an antiquated patriarchal system that seeks to maintain a harmful status quo. But women can take five feminist action steps to claim space and share success.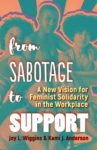 From backstabbing colleagues to bitchy bosses, the workplace can be a minefield for women. Studies show women tend to judge female colleagues far more harshly than they judge men. Inequity remains a massive problem: Women make up a small fraction of CEOs; women of color even less. It's estimated that the wage gap won't close until 2059. It's time to face the system that created this problem, and push back.
Equity and inclusion expert, Joy Wiggins, along with Kami J. Anderson, Ph.D., investigated why women undermine each other in the workplace, and connected it directly to the workplace's patriarchal past. Women have internalized old, devaluing, negative narratives and are turning them on each other. But there are effective ways to reverse this toxic programming, support each other, change the system, and forge lasting solidarity instead of competition between women.
During the interview, Joy will discuss
Why the wage gap still exists — and how women can start making workplaces address it.
How recruiting practices can perpetuate discrimination.
Why women face a "maternal wall" when it comes to being a working mother.
 How women hold self-damaging stories within themselves that stop their career trajectories.
Why it's critical to have uncomfortable conversations about bias and true diversity.
Joy Wiggins, Ph.D., is Founder and Executive Director of Joy Wiggins, PhD, LLC, a consulting company focusing on equity, inclusion, and social justice. She received her doctorate from the Ohio State University.
For more information, visit www.joywiggins.com.

Ken Goldstein comments each hour on Hate in America. (Rebroadcast)

Share this post...