Hour 1 – John J. Higgins and Barb Adams, Week in Review
Join Barb and John as they discuss some of the top stories from the past week.
Hour 2 – Karen Noé, WE Consciousness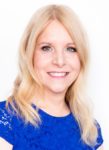 Joining the show during the second hour is Hay House author and internationally-renowned psychic medium Karen Noé.  Karen will be discussing her latest book, WE Consciousness:  33 Profound Truths for Inner and Outer Peace.
After best-selling author Dr. Wayne W. Dyer left the physical plane in 2015, psychic medium Karen Noé began receiving profound, specific messages from him for his family and for the world. While Wayne comes through to Karen singularly, he also comes through together with a group of other celestial beings called the WE Guides, which includes Saint Francis of Assisi and countless other angels and ascended masters.
Wayne and the WE Guides share 33 concepts that make up the WE Consciousness—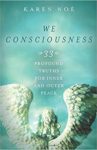 and they all point toward your becoming an instrument of peace. In order to extend peace outside of yourself, you must first feel peace within. You must expect to see peace everywhere and acknowledge the infinite peace that you are; then you must live that identity to the fullest.
The 33 concepts in the book are the keys to experiencing the divinity within us, the One consciousness to which we all are connected. As we live these precepts, we create the inner peace that can translate into external peace in the world. The WE Guides ARE the consciousness that enable us to be instruments of peace if we follow their guidance.
After understanding and applying these ideas, you will be able to create miracles in your life and the lives of others as well. You'll learn how to create Heaven right here on Earth.
Karen Noé is a renowned New Jersey psychic medium with a two-year waiting list. She is the Hay House author of We Consciousness: 33 Profound Truths for Inner and Outer Peace, Your Life After Their Death: A Medium's Guide to Healing After a Loss and Through the Eyes of Another: A Medium's Guide to Creating Heaven on Earth by Encountering your Life Review Now. In addition, Karen is the owner and founder of the Angel Quest Center in Ramsey, New Jersey, where she teaches classes, gives readings, and practices alternative healing. You can listen to Karen on The Angel Quest Radio Show by tuning in to www.hudsonriverradio.com the first Saturday of every month at 10:30am EST.
To sign up for Karen's newsletter and to find out more about her, please visit her website at http://karennoe.com.
Hour 3 (Rebroadcast) – Maggie LaTourelle, The Gift of Alzheimer's
Share this post...