October 27, 2012  Archives/Pod Casts               Hour 1 –   Hour 2 –   Hour 3
Hour 1:  Larry Correia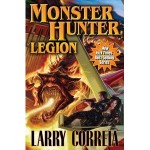 Joining Amerika Now during the first hour of the show is award-winning novelist and New York Times bestselling author of the Monster Hunter International Series, the Grimnoir Chronicles, and the thriller Dead Six, Larry Correia.
Larry asks the question, "Should monsters be sexy?"  He believes the fantasy genre has been temporarily hijacked by "chick-lit," i.e., sexy, sympathetic vampires portrayed in popular media like the Twilight series and True Blood.  Larry believes these new stereotypes have ruined monsters for true fantasy fans.
"The only time vampires should sparkle is when they are on fire," Correia says.  "People are sick of half-baked, self-conflicted bad guys.  That's why I set out to write books where the monsters don't want to date you, they want to eat you, and the best way to deal with them is by shooting them in the face."
Fantasy stories are meant to entertain wish fulfillment–the psychological satisfaction of a desire according to Correia.  "In the case of fantasy fiction, wish fulfillment is kicking paranormal butt for fun and profit.  It's only a matter of time before the cultural shift favors real monsters once again."
Larry Correia is former accountant and military contractor who self-published his first book, Monster Hunter International, after being rejected by mainstream publishers.  The book proved so popular, he was picked up by Baen Books.  This year, he won an Audie Award for audio books, and he was a finalist for the Campbell Award for best new author.
For more information about the book series, visit www.baenbooks.com.
PLEASE CALL  800-259-5791  TO SPEAK WITH LARRY CORREIA.
Hour 2:  Irwin Yablans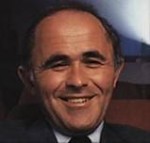 Joining the show during the second hour is the creator of the legendary horror film series, Halloween, Irwin Yablans.
"If John Carpenter is the father of Halloween, then Irwin Yablans is the Godfather. Yablans is one of the last of a generation of street smart New Yorkers who, with a combination of talent, determination and chutzpah, took Hollywood by storm and irrevocably changed the way movies are made." –  Adam Rockoff, "Going to Pieces"
Horror will always have mass appeal, says Halloween film series creator Irwin Yablans, because it touches a visceral emotional response within everyone, unlike other genres.
"When done right, a horror movie evokes an involuntary response involving fear, excitement, repulsion, and fascination," says Yablans, who has a new book out entitled, The Man Who Created Halloween, which details his rise as a successful independent producer, sales chief at Paramount Pictures, and head of Orion Pictures.  Yablans' films spawned a wave of iconic horror characters, and a new way to do business in Hollywood.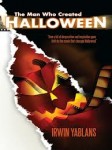 "Too many of today's horror films, which of course are still very cost-effective and profitable, rely on blood and guts to coax gross-out responses from audiences," Yablans says.  "Halloween was successful, in large part, because it played more on the mind, where fear lives."
Irwin Yablans is the Executive Producer and Creator of the Halloween film series, which forever changed the horror genre and the old-studio system.  His new book, The Man Who Created Halloween, details a true rags-to-riches tale of a boy who grew up in a roach-infested tenement in Brooklyn to become the man who transformed society's view of a children's holiday.  Yablans' influence in Hollywood includes setting the standard for a new breed of independent filmmakers and producers, the discovery of famed director John Carpenter, and advocating for studio support for one of the most acclaimed films in history, Francis Ford Coppola's Apocalypse Now.
For more information, visit www.irwinyablans.com.
PLEASE CALL  800-259-5791  TO SPEAK WITH IRWIN YABLANS.
Hour 3:  Gary Val Tenuta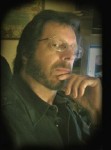 Gary Val Tenua joins Amerika Now during the final hour of the show to discuss his latest book, Ash:  Return of the Beast.
The book is an occult mystery-crime-thriller based on a little known factoid regarding the death of Aleister Crowley (1875-1947), the occultist the British press once called "The Wickedest Man in the World."  Crowley was cremated, but the urn containing his ashes disappeared…and what became of it has remained a mystery…until now!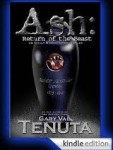 A bloody carnage of unimaginable horror is about to be unleashed upon the world, and the survival of the entire human race hangs in the balance.  Gary's book will have you hooked from the beginning, and has an ending you will never see coming.
Gary Val Tenuta is an author and book cover designer living with his big black cat, Bear, in a cozy condo in the Pacific Northwest.  Gary's illustrations and articles dealing with the UFO phenomenon and other subjects in the paranormal realm have been published in Fate magazine in the U.S., Beyond magazine in the U.K. as well as elsewhere.
The Kindle edition of his debut novel, The Ezekiel Code (2007) was an Amazon.com bestseller in the categories of "Occult" and "Religious Fiction" for over 57 weeks and is also available in paperback.
For more information about Gary Val Tenuta, please visit his website at www.ashreturnofthebeast.webs.com/.
PLEASE CALL  800-259-5791  TO SPEAK WITH GARY.
Share this post...