October 11, 2014 – Archives/Pod Casts         Hour 1 –    Hour 2 –    Hour 3
Hour 1:  Willam J. Hall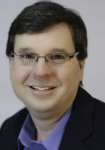 Joining Amerika Now during the first hour is author William J. Hall, who will be discussing his new book, The World's Most Haunted House:  The True Story of the Bridgeport Poltergeist on Lindley Street.
Do you want proof of the supernatural?  Tonight, Bill Hall will share evidence he meticulously gathered about the most witnessed and documented haunted house, discussing one of the most impressive poltergeist cases in history.
In 1974, in Bridgeport, Connecticut, when Bill was ten years old, more than 2,000 onlookers in person and on TV, police officers, firefighters, and others witnessed what the national media reported–jumping furniture, floating refrigerators, and attacking entities.
The Lindley Street haunting was the talk of the city and the state during all of the author's youth and it remained crystal-clear in his memory.  Bill became a professional, performing magician and an expert in researching the unexplained, from folklore and urban legend to fortune telling, the pyramids, and other mysteries.  His syndicated column, Magic and the Unknown, ran for six years in multiple newspapers in Connecticut.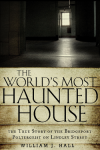 Now, decades later, after the publicity has quieted, Bill tells the story as it actually unfolded, with more than 40 hours of never-before released interviews with police officers, firefighters, and others.  Bill presents, in riveting detail, what really happened on Lindley Street.
William J. Hall was born and raised in Bridgeport, Connecticut, where the events of The World's Most Haunted House took place.  He watched and heard the news coverage of the Lindley Street haunting on TV when he was ten years old.
After more than 25 years as a professional magician and a member of the Society of American Magicians Psychic Investigation Committee, William J. Hall knows how to recognize trickery and how to create and recognize illusions, and he knows from personal experience that poltergeists exist.
For more information, visit http://worldsmosthauntedhouse.com.
CALL  800-259-5791  TO SPEAK WITH BILL HALL.
Hour 2:  Todd Durant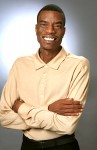 Author and Information Technology professional, Todd Durant, joins the show during the second hour to discuss his book, Build the New City!:  How America Can Create Jobs and Meet the Challenges of the 21st Century.

Just over a decade into the 21st Century we're facing tough economic times and high unemployment rates.  In addition, our country has faced numerous recent natural disasters.  Our nation's morale seems to be at an all-time low.  Is this the America we imagined, and is this the America we are capable of?
Todd Durant believes there's a better way.  In his new book, Build the New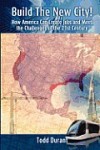 City!, Durant presents a fascinating case for a new national project that would unit people in mind and spirit, create hundreds of thousands of jobs, and offer a much-needed new beginning.  Durant proposes building an entirely new, ultramodern city, which would be completely preplanned and wired for modern telecommunications, designed for ease of movement with everything from mass transit to bicycle routes and pedestrian access, and would use green technology to minimize environmental impact and eliminate pollution.
Tonight Todd will discuss how we can go about putting these ideas to work to begin building the "New City," and what benefits this peacetime challenge would offer, including economic development, affordable housing, improved educational and infrastructure systems, relocation of many from harm's way in low-lying coastal regions, and environmental reclamation of "clean" tidal areas.  Perhaps the biggest benefit, according to Durant, would be the renewed sense of pride and positive outlook for the American people.  He'll also discuss how the "New City" would help solve the three main problems our country faces today as well as why we should build a new city instead of just building upon existing cities.
"We need to come together for a new national project; one that will excite the imagination of just about everyone, young or old, who has ever wondered what marvelous things mankind can achieve when we set our minds and our wills to the task," says Durant.  "For this reason, I propose that America set a goal of building a completely new city from the ground up, and fully populating that city within a span of ten years."
Todd Durant has been an Information Technology professional with 25 years of experience.  He has a passion for solving complex issues and, in this role, Todd has been exposed to many different types of companies and their particular problems, offering him a unique ability to solve issues that transcend more than one discipline.  As Chairman of his local Planning and Zone Board, Durant has seen firsthand the difficulty of balancing land use and the desires of individuals and businesses, and he hopes his proposal for a "New City" will serve as a new beginning.  Having done extensive research into the many facets of this concept, Durant's hope for the "New City" is that it will spark the ideas and conversations that will help to propel our country forward.
CALL  800-259-5791  TO SPEAK WITH TODD DURANT.
Hour 3:  Miriam Knight

Joining the show during the final hour is the Founder of New Consciousness Review and the Host of NCR Radio, an award-winning show, Miriam Knight. Miriam is co-editor (along with Julie Clayton) of the book, What Wags the World:  Tales of Conscious Awakening.
The Universe has many ways of getting our attention…and when mystical experiences happen, we awaken to a more humane worldview and a burning passion to inspire personal and global transformation.  What Wags the World is a timely collection of conscious-awakening stories from more than 35 people from widely different backgrounds who have had profound, often mystical or paranormal, experiences that gave them extraordinary perceptions of an interconnected and multidimensional universe.  These otherwise "ordinary" people—authors and filmmakers—describe how these awakenings changed their understanding of the nature of reality, how their lives changed as a result, as they share their profound messages of insight.
Miriam will talk about some of these stories from contributors such as Ervin Laszlo, Bernie Siegel, MD, Gregg Braden, JD Messinger, and Larry Dossey, MD, to name a few.  She'll also discuss her own awakening.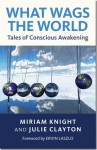 More than just "feel good" stories, What Wags the World attests to an important shift in consciousness and newly emerging values.  If you're experiencing or contemplating experiencing life-changing transformation in your life while still being somewhat skeptical, listen in as Miriam talks about how healthy skepticism is a wonderful tool for rational comprehension as she discusses the extraordinary experiences reported by scientists, medical doctors, and well-respected professionals interviewed in the book.
Prior to embarking on the spiritual path, Miriam worked in hospital administration and held senior management positions.  After returning to the U.S. from England, Miriam published a holistic journal, then founded New Consciousness Review, a book and film review website and launched NCR Radio, where she interviews authors and filmmakers. She then co-founded Luminary Voices, a speakers' bureau for transformational speakers and musicians, and just launched the New Consciousness Media Network. Miriam is a long-time student of energy medicine and is a Reiki Master.  A native of Venezuela and citizen of the world, Miriam has lived on four continents and speaks four languages.
Miriam has a Bachelor's in Romance Languages and Psychology from Boston University and a Master's in Psychology from the University of Virginia.  She is also the author of Seeding Change: Inspiring Evolution of Body, Mind & Spirit (Kindle, 2010).
For more information, visit http://whatwagstheworld.com and http://ncreview.com.
CALL  800-259-5791  TO SPEAK WITH MIRIAM KNIGHT.
Share this post...