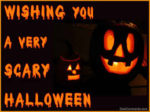 You're in for a treat this year with three hours of spine-tingling tales of terror sure to keep you from closing your eyes at night.
Included in this year's edition of the annual "Halloween Spook-tacular" are Jim Harold (Jim Harold's True Ghost Stories: Jim Harold's Campfire 5); Richard Estep and Cami Anderson (Asylum 49); and Bob Cranmer (The Demon of Brownsville Road).
Turn down the lights and listen in, if you dare. "We shall see that at which dogs howl in the dark and that at which cats prick up their ears after midnight."  –  H. P. Lovecraft
ALSO:  Ken Goldstein comments on Bob Dylan each hour.
Share this post...