March 28, 2015 – Archives/Pod Casts      Hour 1    –    Hour 2    –    Hour 3
Hour 1:  OPEN DISCUSSION with John J. Higgins and Barb Adams on Has America Gone Crazy?
 CALL  800-259-5791  to Join the Discussion
Has anyone noticed the growing trend of people everywhere acting "crazy" these days?  From our leaders down to individual citizens, one need not look far to find evidence that America is indeed going "crazy."

From Walmartians, road rage, and bizarre crimes and acts of violence to a  group of Republican leaders sending a "wacky," treasonous letter to Iran, there appears to be no shortage of weird behavior.
Even the new normal is insane, with the majority of Americans trying to just get by while the minority at the top flaunt their wealth and behave like narcissistic idiots (can you say Selfie?).  And then there's the media, which has now "officially" gone nuts with CNN last month interviewing a llama on live television!
Exacerbated by the great recession, when the government chose to bailout out the perpetrators rather than protect the victims, this country has been in an economic and cultural downward spiral.  And the madness continues to escalate with corporate welfare.  Recent statistics show "the bottom fifth of households in all but one state pay a larger share of their income in state and local taxes than the top 1 percent of earners. This means that corporate welfare effectively redistributes from the poor to those rich enough to own corporate stock."
Our society is losing its sense of right and wrong, and is rapidly coming apart at the seams.  Where is our sense of dignity and respect for one another (and for ourselves)?  Like the 1963 epic comedy film, "It's a Mad, Mad, Mad, Mad World," greed appears to be in the driver's seat and the outcome won't be positive.
As more people succumb to the stressors of modern-day society–compounded by fears put forth by those who deliberately seek to polarize this nation–anger, rage, and hate will continue to proliferate at dangerous levels.
America is on a dangerous path, and it's time we all wake up!
Join Barb Adams and John J. Higgins as they discuss Practical Solutions for America-Has America Gone Crazy?
CALL  800-259-5791  TO JOIN IN THE DISCUSSION!
Hour 2:  David Shechtman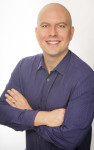 Joining Amerika Now during the second hour is writer, speaker, coach, consultant, and Founder of The Courageous Path:  A Roadmap to the Masterpiece Within, David Shechtman, who will discuss transforming adversities into victories.
Adversity is a part of life.  Problems, both large and small, present themselves throughout our entire lives. Overcoming adversity may seem daunting, but there's a gift in adversity if we can see it.  Learning to deal with and overcome adversity helps strengthen our ability to conquer future obstacles while allowing the qualities of character and courage to emerge from deep within.
Like the Hero's Journey (Joseph Campbell), David will talk about how he created The Courageous Path:  A Roadmap to the Masterpiece Within and how you can learn to navigate the transformational change experience.
David Shechtman is a writer, speaker, and coach based in Los Angeles.  His professional experience includes work with Fortune 500 companies in the financial services, healthcare, travel & hospitality, and telecommunications industries.  Specific clients include Northwestern Mutual, ADP, DaVita, Virtuoso, and the Entrepreneurs Organization (EO).
David currently coaches high-level entrepreneurs, executives, and sales professionals in establishing their unique contributions to their work and taking their successes to a higher level. He also regularly writes for The Good Men Project and the Huffington Post, and contributes his ideas as an entertainment screenwriter.
David's expertise as a behavioral scientist has been developed through a combination of practical experience with prominent and successful organizations, academic study and research, and a strong personal commitment to self-improvement and excellence.
David's education includes a Master of Science in Organization Development from Pepperdine University. He also has taught Organization and Strategy Consulting at the University of Southern California's Marshall School of Business.  David is a published author and regular presenter at the Organization Development Network annual conference.
For more information, visit http://www.thecourageouspath.com/.
CALL  800-259-5791  TO  SPEAK WITH DAVID SHECHTMAN.
Hour 3:  Chris Ruisi

Motivational business and leadership speaker, bestselling author, radio show host, and executive coach Chris Ruisi joins the show during the final hour to discuss his latest book, Step Up and Play Big:  Unlock Your Potential to Be Exceptional in Eight Simple Steps.
Do you want to learn how to become the master of your circumstances instead of being the victim?   Step Up and Play

Big is a mental "presence" that serves as your road map to maximize and use your full capabilities. It gives you the flexibility to adapt to where you are in order to get to where you want to be. It's fueled by a strong sense of self belief. It's an internal optimistic view that helps you see beyond the clutter that surrounds you. It's that small but convincing voice in your head that tells you – "Yes you can be better". Finally, it's a courageous spirit that willingly tackles barriers and obstacles to keep you moving forward towards the desired result.
As Chris says, "A turtle moves forward by learning to stick out his neck."
Chris Ruisi is a nationally recognized executive coach and leadership expert, professional speaker, global talk radio show host and author who challenges business leaders to step up and play big. Drawing on his 35+ years as a senior level executive on the corporate front lines, Chris helps his clients discover how to discover and use the full measure of their capabilities.
Chris uses his real life experience as the former President and COO of USLIFE Corporation and as a member of the office of the Chairman and the Board of Directors, where he also served as Vice Chairman of the Board of Directors. Using this wealth of knowledge, he helps his clients to develop the practical skills and solutions necessary to navigate the risks and demands of the current economic climate. He has offered advice and guidance to CEOs and other C Level executives, entrepreneurs, and several Boards of Directors on which he has served.
Chris combines his detailed insights into the areas of leadership, management, effective team building and motivation with real life anecdotes to create humorous, inspiring, informative and entertaining speaking programs.
Throughout his corporate career, Chris has received acclaim as a decisive, respected and effective leader, among both superiors and colleagues alike. Chris has been recognized for his abilities as a rational problem-solver who is able to keep cool, and promote a calm sense of solution-finding among others, through the challenges faced by a major public company in the financial sector. He has also been acknowledged as the kind of leader who has the unique ability to drive individuals to top performance levels.
For more information, visit http://www.chrisruisi.com/.
NO CALLS, THIS SEGMENT WAS PRERECORDED.
**KEN GOLDSTEIN COMMENTS ON CAN THE ACADEMY SAVE THE AWARDS?  EACH HOUR.
Share this post...