Hour 1 – John J. Higgins and Barb Adams, Week in Review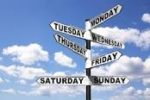 JOIN Barb and John as they discuss some of the top stories of the week, including the 75th anniversary of D-Day, Trump's visit to the U.K., Nancy Pelosi's changing impeachment talk, the upcoming June 11th contempt votes in the House, and much, much more.
Hour 2 – Bill Treasurer, Courage Goes to Work How to Build Backbones, Boost Performance & Get Results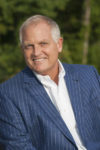 Joining the show during the second hour is Chief Encouragement Officer of Giant Leap Consulting, Bill Treasurer. Bill will be discussing the 10th anniversary edition of his book, Courage Goes to Work: How to Build Backbones, Boost Performance, & Get Results.
The hardest part of a manager's job isn't setting priorities, staying on task, or sticking to budgets. It's dealing with fearful employees who, now more than ever, play it safe at all costs.
According to Warble's 2018 Workplace Experience Study, nearly two-thirds of employees have witnessed harmful workplace behaviors—including discrimination, bad attitudes, theft, harassment, and more—but didn't speak up due to fear. Fear of being labeled, fear of their managers, fear of retaliation, and fear of losing their jobs all topped the "why I stayed silent" list. But for businesses, this silence comes at a financial cost.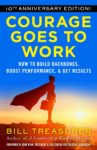 Employees have become "comfeartable"—either too comfortable or too fearful to speak out and do things differently, says workplace expert and courage pioneer, Bill Treasurer.
But all hope is not lost. Contrary to popular belief, courage is a skill that's teachable.  Courage can be learned.
Treasurer's fear-busting, real-world techniques have been road-tested over the past two decades by thousands of executives in eleven countries on four continents. During the interview Treasurer will discuss such topics as
How to develop three specific types of courage:TRY courage (taking action), TRUST courage (relinquishing control), andTELL courage (speaking out)
Why "jumping first" strengthens the courage of those around you
How to avoid fixating on consequences by building workplace safety nets
How to wrangle two types of management courage dispositions: the Fillers and Spillers
Why being courageous will stretch your workers' capabilities, increase their confidence, and boost their performance
Bill Treasurer is a workplace expert, courage pioneer, and author of Courage Goes to Work: How to Build Backbones, Boost Performance, and Get Results. Founder of Giant Leap Consulting, a consulting and training company specializing in courage-building, he advises organizations—including NASA, eBay, Lenovo, Saks Fifth Avenue, Spanx, the U.S. Department of Veterans Affairs, and the Pittsburgh Pirates—on teaching workers the kind of courage that strengthens businesses and careers.
For more information, visit https://giantleapconsulting.com.
Share this post...