Hour 1 – Barb Adams and John J. Higgins, Viruses and Violence (Part 1)
Hour 2 – Barb Adams and John J. Higgins, Viruses and Violence (Part 2)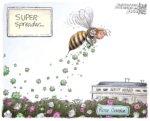 In any other year, a debate between an incumbent vice president and the first Black woman to ever land on a major party's national ticket would be the biggest story of the week. But this is, after all, 2020.
As coronavirus cases and hospitalization rates continue to rise across the U.S. and as health experts warn of a potentially deadly winter ahead, Trump decided one super spreader event wasn't enough, holding a large public event at the White House today, just nine (9) days after revealing his own coronavirus diagnosis. Like Jim Jones, Trump is inviting people to "his" White House to drink his Kool Aid.
But Trump has never hesitated to put his own supporters or those who protect him at risk. While at the height of being contagious, Trump endangered Secret Service agents, having them travel with him in an enclosed SUV while he was driven past supporters who had gathered outside Walter Reed Hospital.
We still don't know if Trump is contagious and, for that reason alone, Trump should not be out in public campaigning or doing any of the things he's doing. But again, Trump doesn't care. It's all about him, and as he slowly begins to understand he is losing his bid for re-election, he's becoming all the more dangerous.
Trump's behaviors this week have been nothing short of maniacal. Beginning with his bizarre return to the White House on Monday when he recklessly ripped the mask off his face before saluting the Marine One helicopter and then going on to claim we shouldn't be afraid of the coronavirus, that the flu is more lethal (it's not!), to his repeatedly changing his position regarding a second debate and completely reversing his stance on a coronavirus economic rescue package that he had killed off earlier, Trump is out of control.
Trump is in full fight or flight mode and acting purely on impulse to prove how powerful he is—everything he does is to make himself feel better about himself. He spent hours on Fox this week doing manic interviews in which he wondered out loud why his "foes" Hillary Clinton, Joe Biden and former President Barack Obama aren't in jail while also raising the possibility that it was actually Gold Star families who infected him with coronavirus at the White House, once again absolving himself of blame for his failure to respond appropriately to the pandemic.
Perhaps most dangerous, however, was Trump's refusal to condemn the domestic terrorists who allegedly planned to violently kidnap Michigan Governor Gretchen Whitmer, instead criticizing Whitmer for her response to the coronavirus, implying she brought this violence upon herself.
When leaders speak, their words matter and they carry weight. Trump's words and rhetoric are becoming more dangerous by the day. He continues to spread misinformation about the coronavirus and the integrity of this election; he uses shocking racist and sexist smears against those he considers "foes;" and he refuses to condemn white supremacists and domestic terrorists time and time again, legitimizing their actions.
Trump is a clear and present danger! In bright contrast, Joe Biden is out promoting a message of Hope, Light and Love, speaking words of unity against those of hate and division.
This election we must choose between fear and Hope, darkness and Light, hate and Love. What will your choice be? Choose wisely!
Ken Goldstein (Rebroadcast) comments each hour on Flexible Work Schedules
Share this post...