(1) John J. Higgins & Barb Adams, Our Best Hope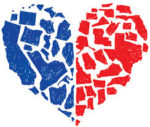 America is divided–politically, racially, religiously–is there hope for shared ground?
The chasm separating one side of the electorate from the other continues to widen, leading many to wonder whether unity or healing of our divisions is possible. More people voted for the candidate who did not become president; and while Trump's victory speech said "it's time for America to bind the wounds of division," Trump continues to show himself to be a divider rather than a uniter of our nation.
Those who identify with either political party increasingly disagree not only on the issues of importance and policy, but they inhabit different worlds in terms of social and cultural values. According to a recent Wall Street Journal/NBC News survey, Democrats are "eight times as likely to favor action on climate change." Additionally, "more than three-quarters of Democrats, but less than one-third of Republicans, said they felt comfortable with societal changes that had made the U.S. more diverse."
Without shared beliefs, every difference pulls us farther apart, leading to a rise in tribalism (as witnessed with the growth of the Alt-Right).
So how do we lessen the gaps and strengthen the ties that bind?
JOIN Barb and John as they discuss Our Best Hope.
(2) Becky Thompson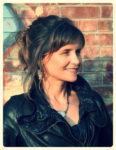 Joining the show during the second hour is Professor of Sociology at Simmons College and human rights activist Becky Thompson, Ph.D. Becky will be discussing her latest book, Teaching with Tenderness: Toward an Embodied Practice.
In this moment in history, as polar bears stand on bathroom mirror size ice pieces, and school shootings have become de rigueur, as Islamophobia has become a well known word, and politicians throw punches and then laugh, a through line we are sadly witnessing is an erosion of tenderness. While numerous pundits have noted a decline in civility– a formal sense of respect offered in public settings–tenderness can slide in and out of the public sphere. It goes deeper than civility, helps us know that we belong to each other, and is essential to who we are as human beings.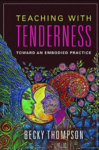 Becky will discuss a lesson plan for bringing higher awareness to education. She offers a practical model for embodied teaching, where a classroom where painful realities like slavery, colonization, rape, and genocide can become the subject of fearless, or fear transcending, study.
Becky Thompson, PhD, is a scholar, human rights and anti-racism activist, cross-cultural trainer, writer, poet and senior-level yoga teacher (RYT-500). She has lectured on race, gender and class issues around the world. Since 2015, Becky has served as a human rights advocate on the front lines of the refugee crisis in Greece, where she has assisted people seeking asylum, documented human rights violations, and taught writing workshops for refugees. Becky has contributed thought-leadership, scholarship and consultation to various groups interested in organizational transformation, yoga principles, contemplative practices, trauma, healing and social justice. She has led cross-cultural training courses that focus upon yoga, poetry, and feminist writing for global audiences.
Becky is the author of several books including Teaching with Tenderness, Survivors on the Yoga Mat: Stories for those Healing from Trauma and Zero is the Whole I Fall into at Night. Becky's writing and activism has been recognized with honors from the Rockefeller Foundation, the National Endowment for the Humanities, the American Association for University Women, the Ford Foundation, Political Research Associates, and the Gustavus Myers Award for Outstanding Books on Human Rights, and the Creative Justice Chapbook Press Poetry Prize. Becky's current social justice projects include an anthology of poetry by and about refugees which she is co-editing with Palestinian poet and aid worker Jehan Bseiso.
For more information, visit http://beckythompsonyoga.com.
(3) Daniel Burrus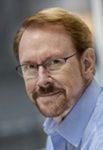 LISTEN IN ON HOW TO GET DANIEL'S NEW BOOK, THE ANTICIPATORY ORGANIZATION, FOR FREE!
Keynote speaker, business strategist, and global futurist Daniel Burrus joins the show during the third hour to discuss his new book, The Anticipatory Organization.
Technology-driven change is accelerating at an exponential rate, but moving fast in the wrong direction will only get you into trouble faster! Reacting to problems and digital disruptions, no matter how agile you and your organization are, is no longer good enough.
In his latest book, The Anticipatory Organization, Burrus will teach you how to separate the Hard Trends that will happen from the Soft Trends that might happen, allowing you to jump ahead with low risk and the confidence certainty can provide. Accelerate innovation and actively shape the future—before someone else does it for you!
Digital transformation has divided us all into two camps: the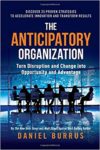 disruptor and the disrupted. The Anticipatory Organization gives you the tools you need to see disruption before it happens, allowing you to turn change into advantage. In The Anticipatory Organization, Burrus shows us that the future is far more certain than we realize, and finding certainty in an uncertain world provides a big advantage for those who know how and where to look for it.
Inspired by the dramatic results that organizations are experiencing from his award-winning learning system, The Anticipatory Organization offers a comprehensive way to identify game-changing opportunities. Using the principles of this proven model, you will learn how to elevate planning, accelerate innovation, and transform results by pinpointing and acting upon enormous opportunities waiting to be discovered.
Daniel will discuss some of his award-winning strategies as well as help you learn how to
• Separate the Hard Trends that will happen from the Soft Trends that might happen;
• Anticipate disruptions, problems, and game-changing opportunities;
• Identify and pre-solve predictable problems;
• Accelerate innovation (both everyday innovation and exponential innovation);
• Pinpoint and act upon enormous untapped opportunities; and
• Skip problems and barriers to succeed faster.
Daniel Burrus is considered one of the world's leading futurists on global trends and innovation. The New York Times has referred to him as one of the top three business gurus in the highest demand as a speaker.
He is a strategic advisor to executives from Fortune 500 companies helping them to develop game-changing strategies based on his proven methodologies for capitalizing on technology innovations and their future impact. He is the author of seven books, including The New York Times and Wall Street Journal best-seller Flash Foresight, as well as the international best-seller Technotrends. His latest book, The Anticipatory Organization: Turn Disruption and Change Into Opportunity and Advantage (2017), is an Amazon #1 Hot New Release for Business.
For more information, visit https://www.burrus.com.
Share this post...