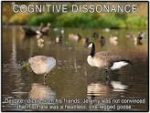 (1) John J. Higgins & Barb Adams –  Cognitive Dissonance in America

Join Barb and John as they discuss cognitive dissonance, what it is, how it helped Trump "win" the election, and how it keeps the nation divided.
It's human nature to seek to convince ourselves that our ways of thinking, our beliefs, and our actions are "right" and acceptable.  The 2016 presidential election exemplified cognitive dissonance.  While Trump successfully castigated Hillary as a liar, Trump himself was an even bigger liar. Independent polls conducted by numerous fact checkers found 52 percent of Trump's statements to be entirely false, compared to Clinton's 12 percent.
And then there's the latest, "Pizzagate," which is a debunked theory based on other debunked theories. But many people just can't let go, even when faced with the truth, preferring instead to cling to mistaken beliefs, paying attention only to what they want to hear (which is what most people do, i.e., cognitive dissonance). Add in the media's constant stream of cognitive dissonance and it's a wonder our democracy works at all.
JOIN Barb and John as they discuss Cognitive Dissonance in America.
(2) Ora Nadrich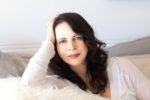 Joining the show during the second hour is author and certified life coach, Ora Nadrich. Ora will be discussing her new book, Says Who? How One Simple Question Can Change the Way You Think Forever.
You think 60,000 to 70,000 thoughts per day. Sadly, it's the negative ones you tend to hear the loudest. But by using a set of daily, simple questions, you can stop the negative thoughts the instant they pop up, and it's as simple a practice as brushing your teeth.
Negative thoughts damage our lives and happiness and create behaviors that railroad the best of intentions. As mindfulness, meditation, and certified life coach Ora Nadrich points out, you simply can't lead a happy life if your inner dialogue is conflicted or causing you to suffer.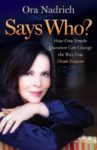 In Says Who?, Ora has created an incredibly easy-to-follow method to rid yourself of negative thoughts, taking away all their power over you. And it works for everyone. It starts with realizing that you are in control over your own thoughts and you get to decide which ones stay.
Nadrich will discuss the 7 key questions to ask every day to challenge negative thoughts; why revealing the nature of a negative thought rob it of its power over you; how negativity tricks you into believing you're being productive when you're not; and why we find negative thoughts so comforting.
Ora Nadrich is a Certified Life Coach and Mindfulness Meditation Teacher as well as being an author, speaker, radio guest, writer, and featured Huffington Post blogger. Her combination of insight, intuition, compassion and charisma have made her one of the most effective and sought-after life coaches in Los Angeles. Ora lives in Los Angeles with her husband and two sons.
For more information, visit http://www.oranadrich.com.
(3) Rev. Dr. Karen Tate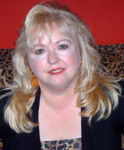 Author, teacher, speaker, radio show host, and social justice activist Rev. Dr. Karen Tate joins the show during the third hour to discuss her latest book, Goddess 2.0: Advancing a New Path Forward.
You're not alone if you believe domination and authoritarian patriarchy are destroying countless lives and our planet. There is a more sustainable alternative and it's not new. In fact, says Karen Tate, it's ancient. Exiled for a time, but making a return, the Sacred Feminine has become indelibly integrated into our lives, reminding humanity during this time of crisis that the ideals of the Goddess offer a pathway to secure a more sustainable future. As people lose faith in organized religion, as the paradigm of power shifts across the globe, as climate change approaches a point of no return, people are leading using their divine intelligence gleaned from Goddess teachings to find solutions. They're listening to their consciences, heart wisdom, and intuition to manifest a new normal–practicing partnership, generosity, and compassion to establish a new way of being.
Karen will discuss what the word Feminine means; what Sacred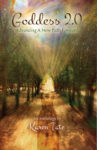 Wisdom is and why the world needs more compassion, empathy and bipartisan partnership now; where the new consciousness will arise from; how the Sacred Feminine offers humanity the solutions it seeks; what some of the ways are to usher in a new world and new normal; and what the Goddess has to do with politics.
Karen Tate is an author, teacher, speaker, radio show host, and social justice activist. Named one of the 13 most influential women in Goddess Spirituality, Karen hosts the long-running radio show Voices of the Sacred Feminine on Blog Talk radio. In addition, she's the author of numerous other books and appeared in the award-winning film, Femme: Women Healing the World.
For more information, visit http://karentate.com.
Share this post...