September 22, 2012  Archives/Pod Casts        Hour 1 –   Hour 2 –   Hour 3
Hour 1:  Loren J. Enns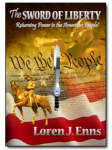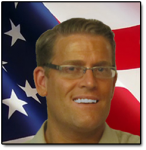 Joining Amerika Now during the first hour of the show is computer engineer turned author Loren J. Enns to discuss his new book, The Sword of Liberty.
Enns says that "Our government is bankrupting America" and that "we can stop it by unleashing the Constitution's greatest power!"  Our government and politicians, both left and right, have failed us.  Enns proposes a National Initiative Process that he believes could be used to stop our government from bankrupting America.  He says this process is a way "with which the American people can attempt to seize destiny from the hands of our government and return representative democracy to the people while getting the money and privilege out of politics."
We the American People and our Republic are suffering because of domination by the rich few and moneyed interests.  Laws are made based on special interests, while public welfare is often set aside.  Money not only talks, it rules.  Corruption and collusion are running rampant, and the government and politicians, both left and right, are failing us.  Without reform, there can be no real control of these moneyed interests; but until politicians stand up and are responsible to the people only, there will be no reform.
If we cannot trust those working within the system to fix it, is there another way?  Did the Founding Fathers leave us an emergency Constitutional mechanism that could be used to both bypass the federal government and amend the Constitution if necessary?
Enns believes the Founding Fathers did leave us such a mechanism—Article V Convention, which could be used to establish a National Initiative Process and a National Recall Process.  The National Initiative Process would allow us to vote directly on federal legislation, while the National Recall Process would allow us to fire and replace the President and members of Congress if necessary.  Enns believes that "with these powers in hand, we could stop our politicians from bankrupting America."  He also believes that "with this power in hand, our representatives might just start representing us again."
America is calling.  Will we join one another in common cause and work together in the spirit with which this country was created, or will we shrink from the moment?
Loren J. Enns is a computer engineering instructor turned author with a passion for politics and American History.  He has more than 12 years of experience in reverse engineering the latest technologies from Microsoft & Cisco and teaching them to industry IT engineers.  He attended the University of Nebraska and majored in Criminal Justice.
If you'd like more information about Loren, please visit his website at www.sword of liberty.com.
Hour 2:  Robert Mazur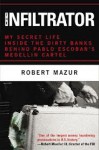 Former DEA Undercover Agent and author of  The Infiltrator:  My Secret Life Inside the Dirty Banks Behind Pablo Escobar's Medellin Cartel joins Amerika Now during the second hour to discuss money laundering.
Last month, members of  a U.S. Subcommittee demanded that the CEO of Wal-Mart, Michael Duke, respond to accusations that the company fostered bribery, tax evasion and possible money laundering in Mexico.   Henry Waxman and Elijah Cummings sent a formal request to Wal-Mart for the production of records relative "not only to bribery, but also to questionable financial behavior, including tax evasion and money laundering in Mexico."
Robert will discuss the consequences Wal-Mart faces as a result of this alleged criminal conduct as well as other examples of "business as usual" for American-based global companies.  He'll also talk about the recent high-level arrest of members of the Sinaloa drug Cartel, which shut down a long planned "pipeline" for cocaine into the U.S.
Federal Agent Robert Mazur spent five years undercover as a money launderer to the international underworld, gaining access to the zenith of a criminal hierarchy safeguarded by a circle of dirty bankers and businessmen who quietly shape power across the globe. These men and women control multibillion-dollar drug-trafficking empires, running their organizations like public companies. Accountants, attorneys, and financial advisors, their roots run deep in their communities, and they are laundering billions of dollars a year, manipulating complex international finance systems to serve drug lords, corrupt politicians, tax cheats, and terrorists. In 1987, Mazur began infiltrating BCCI, the bankers behind the Medellín cartel.  He meticulously gathered evidence for years until, during a fake wedding, federal agents arrested over 40 high-ranking criminals, who were all found guilty and sent to prison.
His never-before-told story on how he did it will amaze you and allow you access to an undercover world that exists all around our own.
For more information about Robert Mazur, please visit his website at www.the-infiltrator.com.
Hour 3:  Dale Brown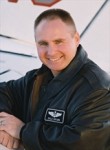 Joining the show during the final, third hour is former U.S. Air Force Captain Dale Brown who is the superstar author of eleven consecutive New York Times best-selling military-action-aviation adventure novels, including his latest, Tiger's Claw.
The sleeping dragon has been awoken:  America and China step to the brink of World War III in Dale's newest thriller.  The balance of world power, and perhaps the fate of the world itself, hangs in the balance.  Brown is known for his authentic expertise which he relays in his books, including whirlwind tours across the cutting-edge of weapons and aeronautics technology as well as an incisive survey of the economic, political and military role the U.S. plays in the Pacific today.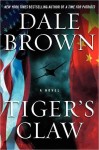 Everyone's aware of China's rise to the position of America's #1 military, economic and political rival, and everyone is eager to see how the next chapter in this drama will play out.  Tiger's Claw is a riveting and factually sound prognosis of what may well lie ahead for our brave new world.
Dale graduated from Penn State with a degree in Western European History and received an Air Force commission in 1978.  He was a navigator-bombardier in the B-52G Stratofortress heavy bomber and the FB-111A supersonic medium bomber, and is the recipient of several military decorations and awards, including the Air Force Commendation Medal with oak leaf cluster, the Combat Crew Award, and the Markmanship ribbon.
Dale was also one of the nation's first Air Force ROTC cadets to quality for and complete the grueling three-week U.S. Army Airborne Infantry paratrooper training course.
Dale is a volunteer mission pilot for Angel Flight West, a charity medical transportation organization which flies needy persons free of charge to receive medical treatment, a volunteer mission pilot for the Civil Air Patrol, and volunteers for the U.S. Air Force auxiliary, which flies missions in support of the Air Force and other government organizations.  He also supports a number of organizations to support and promote law enforcement and reading.
He's a member of The Writers Guild and a Life Member of the Air Force Association and U.S. Naval Institute.  Dale's a multi-engine and instrument-rated pilot and can often be found int he skies over the U.S., piloting his own plane.  On the ground, Dale enjoys tennis, skiing, scuba diving, and hockey.  Dale and his family live near the shores of Lake Tahoe, Nevada.
For more information about Dale Brown, please visit his website at www.dalebrown.info.
Share this post...