January 31, 2015 – Archives/Pod Casts          Hour 1    –    Hour 2    –    Hour 3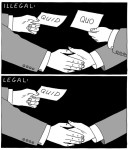 Hour 1:  OPEN DISCUSSION with John J. Higgins and Barb Adams  –  Legalized Bribery in America:  How Much "Free Speech" Can $900 Million Buy?
CALL 800-259-5791 to Join the Discussion!
On Monday, billionaire brothers Charles and David Koch announced they plan on spending nearly $900 million of their own money to help elect conservative candidates to Congress, state legislatures around the country, and to the presidency.  According to the New York Times, this amount is "…an unparalleled effort by coordinated outside groups to shape a presidential election that is already on track to be the most expensive in history.  The spending goal, revealed Monday at the Kochs' annual winter donor retreat near Palm Springs, California, would allow their political organization to operate at the same financial scale as the Democratic and Republican Parties," reflecting the continued loosening of campaign finance restrictions seen in recent years post Citizens United v. FEC.
Thanks to the Supreme Court's decisions in Citizens United, we now have an institutionalized system whereby politicians can receive money legally from special interest groups and individuals with staggering results.  During the 2012 election cycle, more than $1 billion in outside money was contributed by super PACS, corporations, nonprofits, and individuals (many whose identities were never disclosed).  And when individuals and corporations (many of which are large multinational corporations) put their money into politics or politicians, it's considered an investment and a "return" is expected.
While history is replete with examples of the evils of money in politics, history also records that money in politics is also cyclical. The response to the historic campaign finance abuses during Nixon's era resulted in landmark campaign finance reform legislation.
We are at a crossroads in America.  With all the monies attempting to buy and corrupt our system, there also exists the opportunity to make major changes to our campaign finance process.  But we must act, and this is the challenge!  Nothing in a democracy has the potential to change the status quo as an informed voter.  It's time to restore sanity to our beleaguered country and political system, and that begins with ending the legalized bribery that is running rampant and destroying our great nation.
Please join Barb Adams and John J. Higgins as they discuss Practical Solutions for America on how to end "legalized bribery" in America this Saturday, January 31, at 11pm Eastern and 8pm Pacific.
CALL  800-259-5791  TO JOIN THE DISCUSSION!
Hour 2:  Christopher Kelly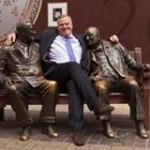 Author, former Chairman of Chyron Corporation, and retired television executive Christopher Kelly joins the show during the second hour to discuss his and co-author Stuart Laycock's book, America Invades: How We've Invaded or Been Militarily Involved with Almost Every Country on Earth.
2015 marks the 70th anniversary of the end of World War II as well as the bicentennial of the Battle of New Orleans, which was won by Andrew Jackson and ended the War of 1812.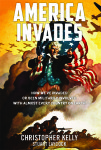 It's important for Americans to understand our history, especially as it relates to U.S. foreign policy. So how many countries do you think the U.S. has invaded in the course of our history, and how many countries do you think the U.S. has been involved with militarily?
According to Kelley, "A couple of years ago, I read a book called All the Countries We've Ever Invaded: And the Few We Never Got Round To (The History Press, 2012) by a British author, Stuart Laycock, asking the same questions about Britain. His answer was that Britain has invaded or fought conflicts in almost 90 percent of the world's countries. I thoroughly enjoyed his book, and eventually we met for a pint in London and a friendship blossomed. We decided to team up, using Stuart's passion for world history and my passion for American history to answer the questions about my country that I'd wondered about for so long. This book is the result."
So what defines an invasion and what does "militarily involved with" mean?
"If satellite reconnaissance counts as an 'invasion,' then clearly the answer is a very large figure. Ditto for NSA telephone surveillance. If you count American cultural invasions such as Elvis, McDonald's, or Hollywood, for example, we could include nearly every country in the world. That, however, seems a bit of a linguistic stretch," says Kelly.
"The nature of what constitutes an invasion has, of course, changed dramatically over the years. The old cry of 'Send in the Marines!' could, in the days of cyber-warfare, be replaced by 'Send in the nerds!' Should the introduction of a computer virus be considered an invasion?" asks Kelly.
Listen in as Christopher Kelly discusses why remembering our military history is so vital for 2015 and beyond.
Christopher Kelly is the son of a Korean War veteran and the descendant of Stephen Van Rensselaer, the leader of a disastrous invasion of Canada during the War of 1812. Kelly is the past Chairman of Chyron Corp. (now ChyronHego) and the former Director of Kelly Television Co. and Kelly Broadcasting.
For more information, visit http://americainvades.com.
CALL 800-259-5791 TO SPEAK WITH CHRISTOPHER KELLY.
Hour 3:  Tom Paladino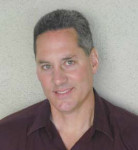 Joining Amerika Now during the final hour is Scalar Energy researcher Tom Paladino, who will be discussing his Scalar Energy Pathogen Cleansing instruments and healings.
Was it medicine or really Scalar Energy Pathogen Cleansing that healed the infected U.S. Ebola victims? While doctors and hospitals were celebrating in the nation's headlines, Tom Paladino knew differently. He had been quietly disassembling the Ebola cells in their bodies using his Scalar Energy Pathogen Cleansing instruments.
Why is Paladino convinced that his protocol was the cure? Because thousands of others since 2012 have been reporting remarkable recoveries from chronic illnesses such as Lyme Disease, HIV symptoms, hepatitis, herpes, MRSA, Epstein-Barr, psoriasis, chronic sinusitis and parasites among others. And a variety of his medically-diagnosed clients have the proof—Viral Load Tests showing the elimination of the pathogen after exposure to the Scalar Energy Healing Sessions.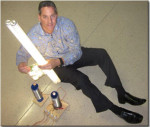 Listen in tonight as Tom explains how his system, which took nearly 20 years to perfect, requires only a photo of an individual—a focal point—to work its treatment process. Paladino says there are no side effects when these bacterial, fungal, viral and protozoan cells disassemble as they simply transmute into elemental carbon, oxygen, nitrogen, iron, phosphorus, calcium, etc.
Tom Paladino was always curious, even as a child growing up in New Rochelle, New York. But when he read about scientist, inventor and energy pioneer Nikola Tesla, it fired his imagination. It was then that Paladino's course was set, because no matter what else he did—school, jobs, businesses—his focus continued to be drawn back to energy, in particular Scalar Energy.
After receiving a degree in English from San Diego State, Tom continued taking post-graduate courses for more than 10 years. At age 33, however, he had a major breakthrough when he was brought into contact with the widow of the famous energy scientist, Galen Hieronymous, whose work he had studied extensively. Sara Hieronmymous gave Tom her husband's private notes and allowed him to see the inner workings of their initial instruments. It was a major turning point.
For the next 15+ years, Tom worked to perfect his own Scalar Energy technology, and eventually, in 2012, brought out his Scalar Energy Pathogen Cleansing to the public. As a pioneer in this form of energy medicine, Paladino is the banner carrier for Scalar Energy as the solution to many of the world's health crises.
For more information, visit http://selfhealgo.com.
CALL 800-259-5791 TO SPEAK WITH TOM PALADINO.
Share this post...