THANK YOU TO ALL OUR VETERANS FOR YOUR SERVICE!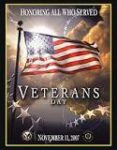 (1) John J. Higgins & Barb Adams, Moving Forward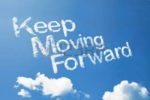 This past Tuesday, New Jersey and Virginia chose new Democratic governors, possibly setting the tone for the mid-term elections in 2018. Voters in Virginia chose to send a message to "…end the divisiveness…" according to Democratic Lt. Gov. Ralph Northam while in New Jersey Democrat Phil Murphy reiterated a similar message, "The days of division are over. We will move forward."
So how do we keep moving forward, as individuals and as a nation?
Realize first that difficult times happen. They can teach us lessons, make us stronger, and deepen our sense of self and community. How we react or respond can make all the difference between moving forward or becoming paralyzed in fear.
"In every adversity there lies the seed of an equivalent advantage. In every defeat is a lesson showing you how to win the victory next time." – Robert Collier
Making wise choices and decisions is a process. Once adversity is seen as a gift in disguise, this shift in perspective can help keep us moving forward towards becoming more fulfilled and resilient human beings and nation.
JOIN Barb and John as they discuss Moving Forward.
(2) Tyger Kahn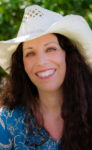 Joining the show during the second hour is natural-born Clairvoyant and Clairaudient Master Teacher, Tyger Kahn. Tyger will be discussing her new book, Intuition: Language of the Soul.
Tyger Kahn, a psychic to the stars, calls herself the "Reluctant Psychic" because "…the ability to see the future does not make for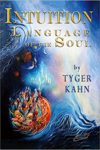 an easy life. Coping with this gift is a lifelong adjustment." Tyger says in her new book, Intuition: Language of the Soul, that we should be focusing on developing our intuition and learning to listen to it rather than seeking information about the future from psychics.  She says listening to our intuition can save us from years of making bad choices.
Tyger's goal is to teach others how to open themselves to intuition safely. She warns that there are psychics out there who are not always righteous. During the interview, Tyger will discuss
How to know the difference between instinct and intuition
The difference between a premonition and fear
Why activating our intuition takes patience and practice and the more you train the intuitive muscles, the stronger they will become
The dos and don'ts for attracting your soul mate
Why it is important to connect with nature
Why listening to classical music helps us to get in touch with our intuition
How to decode and improve your dreams
How prayer transmutes your past, alters your present and shifts your future.
With over 20 years of experience, Tyger Kahn is a natural-born Clairvoyant and Clairaudient Master Teacher with classes on meditation and intuitive development. A direct descendant of legendary healers, miracle workers, and prominent Kabbalists of Eastern Europe, her ancestry dates back to King David. Tyger's unique and diversified background provides her with the life experience to recognize that we all have enormous potential. Her international clientele include Fortune 500 executives, celebrities, healers, athletes, as well as medical and tech professionals.
Tyger has been featured in such popular magazines as W Magazine's Black Book  and LA Magazine's Best of LA. She has also been on numerous radio shows worldwide including Hay House Radio. Tyger served as an adviser for Tibetan Healing Fund–Tibet's first freestanding birth center, which opened its doors in the town of Repkong in 2009. Tyger is currently teaching workshops on intuition at Chabad in the Pacific Northwest. A colon cancer survivor and fraternal twin, she enjoys walking in the woods and being grateful.
For more information, visit https://www.tygerkahn.com.
(3) Dr. Tammy Bottner, MD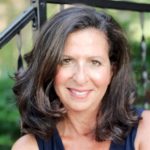 Pediatric physician, writer, and mother Dr. Tammy Bottner, MD, joins the show during the third hour to discuss her book, Among the Reeds: The True Story of How a Family Survived the Holocaust.
Dr. Tammy Bottner is the child and grandchild of Holocaust survivors. When her son, Ari, was born, she experienced profound terror and obsessive thoughts about being hunted. Where would she hide? What would she do if he cried? What if she had to give him up in order to save his life?
The burgeoning science of epigenetics, which posits that the genes we inherit from our parents can be affected by our parents' life experiences, offers an explanation as to why Bottner experienced such extreme anxiety when her son was born. She believes the trauma her grandparents lived through and that her father experienced as a child actually changed their genes and that these altered genes were passed on to her.
Her father was one of the "hidden children" who were secreted away in convents, in private homes, and elsewhere during the Holocaust. Not only did he suffer from the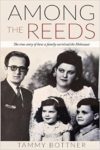 trauma of being ripped apart from his parents at the age of two, but at the convent he lived in social isolation in a damp, dank basement with no light or windows. "His world was cold and lonely and he suffered from sensory, food and emotional deprivation," says Bottner, who believes the stress of the ordeal left its mark not only on his psyche and health, but, as epigenetics shows, also on his genes, which he passed on to her. "My father's and grandparents' pain and suffering is embedded in my genes," she says.
During the interview Tammy will discuss the riveting memoir of how her family survived the Holocaust as well as how the science of epigenetics is shedding light on how trauma alters our genes and affects future generations.
Dr. Tammy Bottner, MD, is a physician who treats children and adolescents in a small city north of Boston. She lives with her husband and their two nearly grown children. Tammy enjoys yoga, dance, tennis, biking, photography, travel, reading, and spending time in nature. Among the Reeds is her first, but hopefully not last, book.
For more information, visit http://tammybottner.com
Share this post...