(1) The Week in Review – A Discussion with John J. Higgins and Barb Adams
Some of the topics to be discussed will include an analysis of the Democratic National Convention, Hillary's historic moment, Trump's Plea to Russian Hackers, and "what now?" for Bernie Sanders' followers.
(2) Will Schneider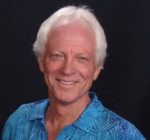 Joining the show during the second hour is author Will Schneider, who will be discussing his novel, Lucifer's Game, Book One: The Realm of Shadows.

Like a moth to the flame, our natural tendency is to flutter our little angelic wings to move us towards what we consider to be the 'good' and the 'sacred' within us. This direction can lead to extraordinary levels of Self-Realization, fresh perceptions about life's deeper meaning, and our connection with the Universe itself.
"What about our Darkness, those negative characteristics that we all have, yet suppress or even deny? What about the Shadow Side of our psyche?" asks Will Schneider. Schneider points out that most people are unaware of the negative traits, their Shadowlings, because we systematically push them away from our conscious awareness. Our Shadowlings are all those unsavory and clearly 'un-spiritual' aspects of ourselves, the rejects of our character traits that we don't want to admit we have, let alone invite into our rosy self-image. We tend to banish these unacceptable features down deep into our consciousness.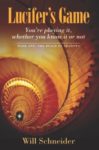 "Unfortunately, that strategy doesn't work too well," says Schneider. In Lucifer's Game, Schneider explores the ebb and flow between our opposite poles, the Light versus Dark, in a way everyone can relate to, and explores the possibility of a more elevated level of transcendence and inner balance which can lead to greater true spiritual wholeness.
Will Schneider is a full-time writer living in the wine country of Sonoma County, north of San Francisco. Formerly working in business development, Schneider spent years as the Licensing Director for the world-renown artist, Laurel Burch, as well as a National Sales Manager in the wine industry and high-tech arena.
An adventurer at heart, and naturally drawn to the 'edge' of things, his current passion is kayaking along the wild Pacific coast. Will has equally experienced a calling to explore and push the boundaries of his inner world, and has spent decades deeply immersed in the study of various metaphysical traditions. Thirty-five years of deep training from a variety of exceptional spiritual teachings has allowed him to develop a wide-ranging platform of knowledge and understanding regarding the human inner landscape and our potential range of consciousness.
Lucifer's Game is his first novel. Will is currently writing a sequel to this novel focused on the Shadow world of relationships. He is also preparing workshops and events focused on understanding the Shadow and 'waking up' to our Presence.
For more information, visit http://lucifersgame.com.
(3) Diane Reeve

Author and popular speaker on the topics of AIDS awareness and women's empowerment, Diane Reeve, joins the show in the third hour to discuss her book, Standing Strong: The Inspiring Story of an Unlikely Sisterhood and the Court Case That Made History.
Diane Reeve found everything she was looking for in the handsome Frenchman Philippe Padieu. Deeply in love, they spent every Monday, Wednesday, and Saturday together at his place or hers…that is, until she learned about his Tuesday, Friday, and Sunday women.
But her heartbreak was just beginning. After discovering his cheating, she tested positive for HIV and learned that Philippe had knowingly transmitted the disease to her. Even more shocking was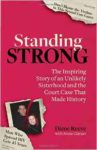 the sick reality that Philippe was deliberately infecting numerous women in their 20s through 60s, with little in common except their vulnerability. Despite plummeting T-cell numbers, Diane vowed to stop Philippe from victimizing anyone else. In a race against time, Diane knitted together a band of Philippe's conquests. This sisterhood, bound by overwhelming emotional and physical pain, fought tirelessly to have him convicted in a landmark victory relying on new DNA science.
But this is not just a story ripped from the headlines; it is one woman's hard-won victory over a crushing experience and a frustrating judicial system–and her mission to help empower others to stand strong.
Diane Reeve has been called "the new face of HIV." Her compelling, inspirational story has been viewed by millions, including on Oprah and 20/20, and has been the subject of magazine and newspaper articles worldwide. Her efforts to bring a predator to justice while maintaining a support group of survivors spurred her to a life of HIV advocacy. As a 7th degree black belt, she lives female empowerment and is a popular motivational speaker on overcoming obstacles. She educates to reduce stigma and victim blaming.
For more information, visit http://datestronger.com.
Share this post...