February 16, 2013    Archives/Pod Casts         Hour 2 –   Hour  3
Hour 2:  Barbara Evans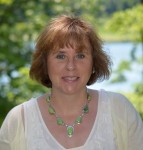 Renowned transformational healing artist, author, and international speaker Barbara Evans joins Amerika Now during the first hour to discuss Messages of Universal Wisdom:  A Journey of Connection Through the Heart.
Wouldn't it be wonderful if there was a way to release your fear-based negative energies while raising your vibrational frequency to increase physical, mental, emotional, and spiritual well being?
Barbara is the Founder of Crystal Wings Healing Art and The Eden Method.  Her book, Messages of Universal Wisdom is a unique and beautifully illustrated account of spiritual awakening and enlightenment that introduces the Image Keys—energetically active tools for raising consciousness.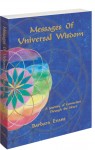 Barbara joins me this evening to discuss ways in which we can all raise our frequencies in our lives, homes, and even workplace.  As a spiritual thought leader and visionary, Barbara has a deep sense of love for our Planet Earth, which fires her passion for finding a new way of living and being within the world: a way based upon Love and Wisdom.  This way of Being supports well being, peace, unity, joy and abundance.
Born in England, Barbara graduated in Biology and Education from the Universities of Liverpool and Cambridge.  She has studied multiple alternative healing modalities and is a Visionary Healing Artist, Reiki Master, Crystal Resonance Therapist™ and ordained Minister.
If you would like more information about Barbara Evans and The Eden Method, please visit her website at www.crystalwingshealingart.com.
Hour 3:  Robert Mazur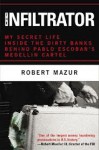 Former DEA Undercover Agent and author of  The Infiltrator:  My Secret Life Inside the Dirty Banks Behind Pablo Escobar's Medellin Cartel joins Amerika Now during the final hour to discuss money laundering.
Federal Agent Robert Mazur spent five years undercover as a money launderer to the international underworld, gaining access to the zenith of a criminal hierarchy safeguarded by a circle of dirty bankers and businessmen who quietly shape power across the globe. These men and women control multibillion-dollar drug-trafficking empires, running their organizations like public companies. Accountants, attorneys, and financial advisors, their roots run deep in their communities, and they are laundering billions of dollars a year, manipulating complex international finance systems to serve drug lords, corrupt politicians, tax cheats, and terrorists. In 1987, Mazur began infiltrating BCCI, the bankers behind the Medellín cartel.  He meticulously gathered evidence for years until, during a fake wedding, federal agents arrested over 40 high-ranking criminals, who were all found guilty and sent to prison.
His never-before-told story on how he did it will amaze you and allow you access to an undercover world that exists all around our own.
For more information about Robert Mazur, please visit his website at www.the-infiltrator.com.
Share this post...