Millennium Falcon Lands in Roswell?: Conspiracy theorists and Star Wars fans, get ready:  New film footage is being promoted as a UFO sighting, and it looks like Han Solo could be at the helm.  The saucer-like airborne vehicle, posted on YouTube by the Alien Disclosure Group UK's Stephen Hannard, appears to follow a spacecraft — or is it a man-made aircraft? — as it travels near the ground, hovers, and disappears behind a building.  "Possible leaked footage of a UFO arriving then landing at an unknown location in New Mexico," Hannard wrote. "Could be one of ours, CGI (computer-generated imagery), or could be the real deal.   You decide."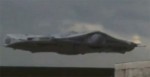 Read full story at:
http://news.yahoo.com/millennium-falcon-lands-roswell-footage-takes-internet-storm-182336531.html
Tornado Season Looms, Forecasting a Challenge: Tornado season is starting, but don't ask meteorologists how bad it will be this year because they don't know.  They're having a hard enough time getting a fix on the likely path of storms expected in the next 48 hours, from the Ohio Valley to the Southeast coast.  On Wednesday night, one hit Rome, Ga., with winds of 95 mph, leaving a 3-mile swath of destruction, and it's not the first one of the year.  In January two people were killed by separate twisters in Alabama. Preliminary reports showed 95 tornadoes struck last month, compared with 16 in January 2011, a particularly stormy year.
The season usually starts in March and then ramps up for the next couple of months, but forecasting a seasonal outlook is even more imprecise than predicting hurricane seasons.   Tornadoes in 2011 started the earliest ever — New Year's Day — killing 550 people, injuring 5,400 and causing $10 billion in damage over the year, the most in U.S. history. The 2011 season had the most tornadoes in a single day and a single month on record.
Read full story at:
http://news.yahoo.com/tornado-season-looms-forecasting-challenge-203222092.html
Cosmic Hurricane Discovered in Our Galaxy: Scientists using NASA's Chandra X-Ray Observatory have measured winds of 20 million MPH coming from a mysterious cosmic object known as a stellar-mass black hole within our galaxy.
Scientists from the University of Michigan have discovered the fastest winds ever measured from a stellar-mass black hole, a discovery with important implications in understanding the nature of this class of black holes. The winds were measured at 20 million MPH, and are emanating from a disk of gas that surrounds the black hole. The winds are many times faster than anything researchers have measured previously from a stellar-mass object, and equal some of the fastest known winds generated by much larger supermassive black holes, which are millions of times more massive.
The stellar-mass object is known as IGR J17091-3624, or IGR J17091. IGR J17091 is a binary system where a star is orbiting the black hole, and is located in the central part of our Milky Way Galaxy approximately 28,000 light years from Earth.
Read full story at:
http://www.gcnlive.com/wp/2012/02/24/barb-adams-cosmic-hurricane-discovered-in-our-galaxy/
Share this post...