Hour 1 – John J. Higgins and Barb Adams

JOIN Barb and John as they discuss some of the top stories from the week as well as share some of their own.
Hour 2 – Rick Snyder, Decisive Intuition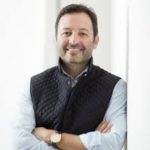 Joining the show during the second hour is the CEO of Invisible Edge, Rick Snyder. Rick will be discussing his latest book, Decisive Intuition: Use Your Gut Instincts to Make Smart Business Decisions.
Intuition is the great differentiator in business. Listening to, trusting, and acting on your intuitive intelligence separates you from the pack as most people are not listening to theirs. Intuition is the one intangible skill that enables teams to function at a higher level and add more dimension and power to their ability to solve problems and grow. Yet the question that each business leader and manager struggles to answer is how do you train and develop intuitive thinking in a team to achieve the greatest result?
In Decisive Intuition, Rick Snyder offers business leaders, managers, and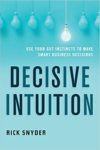 employees who want answers to this question specific ways to shift their perspectives and let their intuition find them.
Rick will discuss a 6-step process for harnessing your intuitive intelligence with practical business applications; explain why intuition is the most important skill we need to develop; help you learn how to tell the difference between your intuition and your inner critic; discuss the 5 roadblocks to accessing your intuitive intelligence and how to overcome them; and discuss the latest findings in neuroscience  to help you access your intuitive, subconscious mind for arriving at better decisions, faster.
He'll help you learn how to integrate business with the latest in psychology and intuition so you can innovate to the next level as well as get curious about the way you receive information and how your inner compass operates for better decision-making. In addition, you'll learn to create a distinct advantage over the competition by integrating inner knowledge with logic and critical thinking.
Rick Snyder is an international business coach, writer, speaker, and consultant. He's launched several businesses and is an expert in mentoring, training, and teaching others how to utilize the process of bringing intuition into an effective business plan and company culture. He is currently CEO of Invisible Edge.
Rick holds an MA in Psychology and has worked in the healthcare, tourism and travel, and training fields. He now helps professionals access their intuitive leadership skills for decision-making on a global scale. Some of the companies he's helped include Intel, Anytime Fitness, Linde Werdelin, and Lalage Beaumont.
Rick's been featured in dozens of radio interviews and podcasts and was featured in or published by USA Weekly, Fierce CEO, Training Industry magazine, and other trade publications.
For more information, visit https://invisible-edgellc.com.
Hour 3 (Rebroadcast) – Kenneth Gronbach, Upside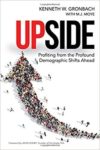 Share this post...