3 'phenomenal shots' ended pirate hostage crisis
CNN) — In the end, it was a single moment that brought the hostage crisis to its dramatic finish.
Capt. Richard Phillips, right, stands with U.S. Navy Cmdr. Frank Castellano after Phillips' rescue Sunday.
Three gunshots. All three fatal. Fired in the dark by three specially trained U.S. Navy SEALs as the pirates' boat rocked in the water off Somalia.
"Phenomenal shots — 75 feet away," said Navy Vice Adm. Bill Gortney, who oversees the region.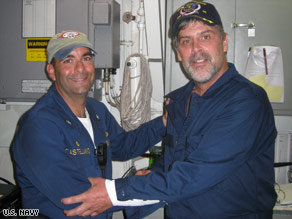 A senior defense official said each was a shot to the head.
Gortney, in an interview Monday with CNN's "American Morning," described critical steps that led to the rescue of U.S. Capt. Richard Phillips, who was taken by pirates after they boarded his merchant ship, the Maersk Alabama, east of Somalia on Wednesday.
Four pirates had been holding Phillips in a small lifeboat, which had run out of fuel. "One of their pirates had left the lifeboat, needed medical attention and jumped onto one of our inflatable boats," Gortney said.
Obama eases Cuba travel restrictions
WASHINGTON (CNN) — President Obama lifted all restrictions Monday on the ability of individuals to visit relatives in Cuba, as well as to send them remittances.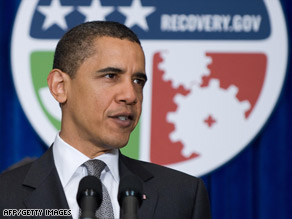 The changes in Cuban policy was unveiled before President Obama's trip to the Summit of the Americas.
"President Obama has directed that a series of steps be taken to reach out to the Cuban people to support their desire to enjoy basic human rights and to freely determine their country's future," White House Press Secretary Robert Gibbs said.
Obama also ordered new steps to promote the "freer flow of information among the Cuban people and between those in Cuba and the rest of the world, as well as to facilitate the delivery of humanitarian items directly to the Cuban people," Gibbs added.
The president took "these steps [in part] to help bridge the gap among divided Cuban families."
Obama believes that the change in U.S. policy will ultimately help bring about a more tolerant, democratic Cuban government, noted White House Latin American policy adviser Dan Restrepo.
He thinks "that creating independence, creating space for the Cuban people to operate freely from the regime is the kind of space they need to start the process toward a more democratic Cuba," Restrepo said.
Several key components of America's embargo on the island nation will be preserved, however. Among other things, Americans will still be barred from sending gifts or other items to high-ranking Cuban government officials and Communist Party members.
Travel restrictions for Americans of non-Cuban descent will also remain in place.
Share this post...