April 13, 2013 – Archives/Pod Casts                Hour 1 –   Hour 2 –   Hour 3
Hour 1:  Elizabeth Gaylynn Baker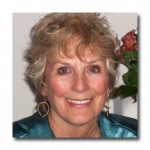 Joining Amerika Now during the first hour of the show is award-winning writer and filmmaker Elizabeth Gaylynn Baker, who will be discussing her recent book,  Gifts of Gratitude – The Joyful Adventures of a Life Well Lived.
Elizabeth Baker celebrates life, yours and hers, with her collection of deeply stirring stories. Gifts of Gratitude is a series of inspiring experiences which are both purposeful and ungoverned and at times tender and dramatic; always moving and outside the box, in search of veracity.
In the paradox of our world, many great minds, from scientists to spiritual teachers, have suggested that we must change our way of being to resolve the spirit of competition and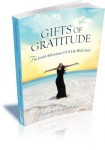 foster community if we want to survive as a species.  Throughout her journey, mentored by mystical teachers, great scientists, spiritual leaders, and even celebrities, Elizabeth has traveled as a beacon on that path.
If you are searching for a true way and a way to realize the gifts of a heart open to Spirit and renewed by life, listen in as Elizabeth shares her own "Gifts of Gratitude."
Award-winning writer and filmmaker Elizabeth Gaylynn Baker worked on eleven independent films in Los Angeles before writing and directing her first documentary, When Buffalo Roam.  The film won Best Social Documentary Short of 1999 at the New York International Independent Film and Video Festival.
Elizabeth's next project was a feature-length documentary, The Trail of Painted Ponies, narrated by Ali McGraw and judged by Sony Classics in New York. The film won Best Documentary at the White Sands Film Festival of 2005, while Baker won Best Woman Director.  It also aired in New York on PBS.
In 2002, Baker worked closely with New Mexico Governor Gary Johnson and also recruited Shirley MacLaine, Val Kilmer, Marsha Mason and members of the New Mexico House and Senate to pass groundbreaking film legislation. It was the historical beginning of New Mexico's vital film industry.
Her book, Gifts of Gratitude, was released in early 2013.
For more information about Elizabeth Gaylynn Baker, please visit her websites at www.bakertruestories.com. and www.spiritproductions.me.
PLEASE CALL  800-259-5791  TO SPEAK WITH ELIZABETH GAYLYNN BAKER.
Hour 2:  Rabbi Wayne Dosick, Ph.D.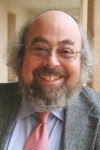 Joining the show during the second hour is acclaimed bestselling author Rabbi Wayne Dosick, Ph.D., who will be discussing his book, The Real Name of God:  Embracing the Full Essence of the Divine.
Do you know the real name of God?  Rabbi Wayne Dosick answers that question and opens the door for a new understanding of the God within while fostering global Oneness.  His Biblical scholarship uncovered the mystery, leading to embracement of the full essence of the Divine.
How can we really know God if there are so many different faces of God reflected in multiple names of God:  The vengeful God, the judging God, the merciful God? Each of the traditional names–including the Hebrew YHWH–seemingly present only one aspect.
Author Rabbi Wayne Dosick, Ph.D., has applied his years of Biblical scholarship to unearth The Real Name of God, resulting in a book that answers the question "Who is God?" and postulates a vastly different and more expansive understanding of God so that we can join with the Divine in transcending our modern divisive world.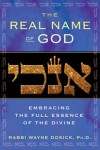 In The Real Name of God: Embracing the Full Essence of the Divine (Inner Traditions–Bear & Co.), Rabbi Dosick says that we cannot know something truly until we know its name. In discovering The Real Name of God, he says, for the first time we can comprehend God's wholeness.
Until now we have been limited by the fact that none of the names of God that we know from the Bible, nor any of the names by which God is later identified and known, is God's real name.  Every God-name reflects only one of God's aspects, attributes, or characteristics.  None has embodied the wholeness, the totality, the full Essence of God.
By challenging long-held, comfortable beliefs, by re-imagining and re-translating the Biblical text, and by combining quality scholarship with sacred spirit, Rabbi Dosick can now reveal the real name of God that has been hiding from us for all these years–right in plain sight in the Bible.  In fact, the name appears 359 times.
The real name of God leads to the revolutionary revelation of the God of the universe, and the Inner God of breath and soul–the intimate and the infinite, the individual and the indivisible.  Rabbi Dosick calls this named God the Divine Beach Ball–each panel or name reflects one of God's attributes, but taken in total, the Divine Beach Ball presents all of God's unlimited essence.
Rabbi Dosick maintains in The Real Name of God that God is actually the Everything of the Everything, containing both genders, and all the seeming contradictions and mysteries of the universe. The real Name of God is shared by all three Biblically-sourced religions, Judaism, Christianity and Islam, affirming our Oneness–One God.  One World. One People.
By realizing and embracing our Oneness, we can now open ourselves to a life of communion with fellow man, and help stem the destructive power of divisiveness. Embracing the Real Name of God, Rabbi Dosick maintains, we take the first steps toward a kinder, gentler, more peaceful world.
The Real Name of God: Embracing the Full Essence of the Divine provides chants , prayers, and meditations, guiding readers on the pathways of mind and spirit that can bring us into a deep, personal, intimate, loving relationship with God, and ever-closer to that world of Oneness.  The Real Name of God is a book for people of every religion and of no religion, of all faiths and of no faith, for spiritual seekers and rational empiricists–for everyone who perceives the Bible's tremendous impact on human life and civilization, and everyone who has ever wondered about God.
Rabbi Wayne Dosick is the award-winning author of eight critically acclaimed books, including the now-classic Living Judaism, Soul Judaism, 20-Minute Kabbalah, When Life Hurts, and the much-beloved Golden Rules. He is also is the spiritual guide of the Elijah Minyan in San Diego, California, a former visiting professor at the University of San Diego, and the host of Spirit Talk Live! Radio on HealthyLife.net.  He has been described as "a rational intellect with the soul of a mystic," and called by Rabbi Dr. David Ellenson, President of the Hebrew Union College, "a spiritual master of our time," in connection with this book.
Bound to be controversial, this book of "radical theology," Rabbi Dosick invites you  to come to The God Revolution: To journey to Sinai once again to discover The Real Name of God and to meet God–Face to Face.
For more information, please visit www.godisanochi.com & www.rabbiwaynedosick.com.
PLEASE CALL  800-259-5791  TO SPEAK WITH RABBI DOSICK.
Hour 3:  Sherri Woodley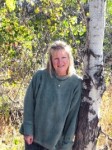 Joining Amerika Now during the final hour of the show is Sherrida (Sherri) Woodley, a Pacific Northwest writer best known for her novel of speculative fiction, Quick Fall of Light, published in 2010 by Gray Dog Press and a Best Books Award Finalist.  Sherri joins Barb on the show tonight to discuss her novel as well as de-extinction.

Fascinated by themes that have a historical basis, yet within them a mysterious paradox, Sherri explores the devastation of a modern-day bird flu pandemic. Called an eco-thriller by some, the novel is really a look at three characters whose lives have been redefined by a global catastrophe and an "extinct" bird treacherously close to dying out a second time.  It is the passenger pigeon that gives her story its weighty question:  If we could resurrect the bird would we drive it to extinction all over again?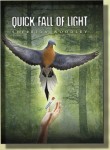 Quick Fall of Light has its roots in the great influenza epidemic of 1918. Based, in part, on the reported mysterious "grippe" that spread around the globe early in the last century, the novel tells of a world largely stunned by a similar modern tragedy, withdrawn, sequestered, and desperate for the availability of an anti-virus, Pass-Flu.
"Pigeons have come under scrutiny in recent connection with bird flu (H7N9). Not unexpected, but unsettling to me as a novelist who depicted pigeons (albeit passenger pigeons) as part of a bird flu pandemic, the mutation has caused increased concern worldwide in the possibility of human-to-human transmission," says Woodley.
"On January 29th, 2013, the Food and Agriculture Organization (FAO) of the United Nations warned that there is a serious risk of a repeat of the disastrous 2006 bird flu outbreaks if surveillance and control for H5N1 and other dangerous animal diseases is not strengthened.  The same article warned if bird flu becomes transmissible, human-to-human, the death toll could be enormous."
Living just outside Cheney, Washington, on a few acres not far from Turnbull Wildlife Refuge, Sherri believes the secret to her writing is found in nature. "I was raised next to a large tract of woods in childhood, something that stayed with me. There's no doubt exposure to nature influences a person her entire life."  In her case, it is the source of writing and the hope of creating another work about a threatened bird (working title: Ancestral).
A former medical transcriptionist and private pilot, Sherri believes there was little time to write when she was young. "It was only when I found I couldn't get past my own compulsion to write that I finally gave it a try." Her work can be found in most major bookstores, through Amazon, or Gray Dog Press.
Website for Quick Fall of Light is:  http://www.quickfalloflight.com
Sherri also has a second (blog) website:  http://www.sherridawoodley.com
PLEASE CALL  800-259-5791  TO SPEAK WITH SHERRI WOODLEY.
Share this post...