Friday, November 11th, 2011
By Barb Adams
GCN Live.com
Unusually destructive "superstorms" are becoming more prevalent, triggering the need for new defining terminology as well as serving as a warning that we are in danger of a massive shift in climate.
Climate change refers to general shifts in the climate involving changes in average weather conditions and changes in how much the weather varies around these averages. Climate change is driven by such factors as solar cycles, variations in ocean currents, eruptions of volcanoes, and changes in atmospheric conditions, particularly "greenhouse gases," which include water vapor, carbon dioxide, methane, nitrous oxide, and halocarbons.
According to data collected from Arctic and Antarctic ice cores, the Earth's climate has flipped dramatically many times in the past, with the last major shift being some 5,200 years ago. Conditions that led to that climate flip are very similar to what we are experiencing today. Along the Bering Sea coast of Alaska, for example, the Arctic sea ice was at its second lowest during October 2011 according to the National Snow and Ice Data Center. As sea ice continues to decrease, more ocean surface is exposed with the result being more heat and moisture available to fuel larger storms, including destructive superstorms.
Dr. Jeff Masters of Weather Underground notes that "multiple studies have documented a significant increase in the number of intense extratropical cyclones with central pressure below 970 or 980 over the North Pacific and Arctic in recent decades." These types of storms are predicted to increase in both number and intensity, bringing stronger winds and more dangerous storm surges.
There have been numerous record-breaking weather-related events around the globe recently. Extreme flooding, which began in July, continues to plague Southeast Asia, with Thailand, Cambodia, and Vietnam particularly hard hit. Flooding also continues in parts of Africa and Columbia, where mudslides have taken scores of lives.
Hurricane Irene threatened more than 65 million people this past August, and caused record flooding in parts of New England. New England was again hit hard by the unusually strong storm system that moved up the East Coast in October, dumping record amounts of snow from New Jersey through New York, Connecticut, and Massachusetts, leaving more than 3 million homes and businesses without power and causing at least 11 deaths. Some parts of Connecticut were without power for over a week.
In Oklahoma, dangerous tornadoes were spawned this past Monday, just 2 days after that state recorded its strongest earthquake ever (5.6-magnitude on November 5). The tornadoes swept through the towns of Tipton and Ft. Cobb. The tornado that occurred in Tipton was especially noteworthy, as the pressure dropped 47.16 mb in just one minute, recording a low of 913.47 mb! For perspective, normal pressure ranges generally from 990 mb to 1015 mb. Hurricane Katrina (considered to be the fastest intensifying hurricane) had a pressure drop from 954 mb to 901 mb in 5-and-1/2 hours.
Also this week, a "snowicane" battered Alaska. It was twice the size of Texas and was as deep as a category-3 hurricane. The National Weather Service called it an "extremely dangerous and life-threatening storm of an epic magnitude" due to its combination of towering waves (some over 40 feet high in the Bering Sea), hurricane-force winds, storm-surge flooding, and blinding snow. Contributing to the superstorm's strength was the abnormally long fetch length, which is the length of the wind blowing in a single direction over water, resulting in stronger and larger waves. The storm's central pressure bottomed out at 943 mb, essentially equaling the minimum pressure of Hurricane Irene, which caused billions of dollars in damages along the East Coast in late August. Coincidentally, the tornado that tore through Ft. Cobb, Oklahoma, on Monday recorded a pressure reading of 944 mb, essentially the same as the minimum pressure observed in the Alaska "snowicane" and Hurricane Irene.
Meanwhile, as the "snowicane" battered the coast of Alaska, the coast of France was hit by an extratropical storm, termed "medicane" by Dr. Jeff Masters, which brought flooding rains and a wind gust of 95 mph—fueled by the warm waters of the Mediterranean.
For thousands of years, Earth's atmosphere has changed very little, remaining in balance to support life. Evidence now indicates a dramatic change may be upon us, and the balance is precarious. Are we facing a dramatic flip and our possible extinction, or will this change be temporary? No one knows for certain, however, current studies and computer modeling indicate a future that includes even more intense superstorms. Let's hope the movie, The Day After Tomorrow, doesn't become our reality.
---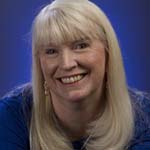 Barb Adams
is the host of
Amerika Now
talk radio show, which airs on GCN Saturdays 9:00p-1:00am Central Time. Listen to the show
On Demand
.
Like GCN Live on Facebook and follow on Twitter for more great news, opinions, and announcements from GCN Live's hosts and staff.
Share this post...