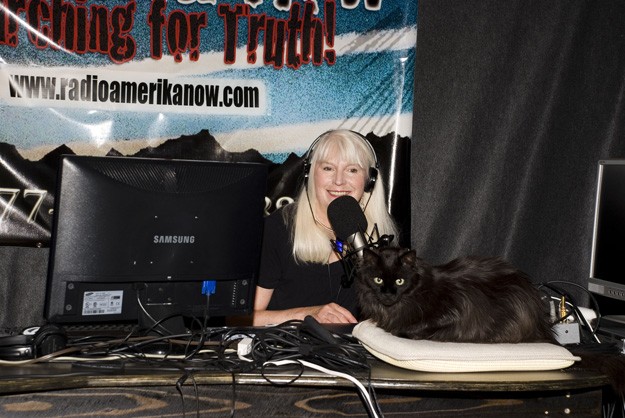 Barb Adams LIVE is about Empowerment and Freedom of Choice–the most important freedom you have–and how we as individuals and as a nation can become most effective.
Seeking to inform and inspire, Barb Adams' background as a former research scientist and author/editor powers the thought-provoking  interviews.
Barb has published on a variety of subjects including  wildlife biology, conservation, population studies, atmospheric change and weather-related phenomena and  quantum physics and spirituality. In addition, she writes periodic articles for the Genesis Communications Network as well as for assorted journals and magazines. Recently, she penned several essays which were included in the book, Sightseeing in the Undiscovered Country (October 2015).  Barb also serves as Conservation Chair for the Fort Collins Audubon Society and, as such, writes monthly articles for the society's publication, the Ptarmigan.
Barb has been featured on Larry King Live, The Today Show, Good Morning America, CBS Morning Show, Fox and Friends, Inside Edition, Extra, E!, Geraldo Rivera, TV New Zealand, CNN, Fox News, and numerous other TV, radio, and print outlets around the globe.
In addition, Barb appeared on an episode of ABC's Wife Swap and also appeared on Animal Planet's Cats 101, which featured her "silent co-host," Sammy. She served as a co-host on a pilot documentary series challenging the boundaries of science in the late 2000s.

Barb resides in Fort Collins, Colorado, and enjoys promoting Colorado on both the local and national media scenes.
Member of  Broadcast and Radio Professionals and Talk Show Host Group.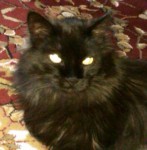 SAMMY
Hi, my name is Sammy and I'm Barb's "purr-fectly silent" co-host on Amerika Now. I've been with the show for some time, sitting faithfully by Barb's side every week for sometimes three very long hours. But I'm patient and, hey, the music's good and I usually get a couple massages during the commercial breaks, so no complaints.
My former buddy, Levi Schwartz, a rather rotund orange tabby cat, brought me to Barb's house, which was out in the country at the time. Levi said Barb was a sucker for cats, and always gave him treats when he came around, so I decided to check it out with him one morning. Sure enough, she spotted me and immediately came to check me out. I admit, I certainly wasn't the handsome gent you see in the picture now, but I was well-mannered.  She fussed over me and noted sadly that I had chunks of ice stuck between my toe pads and that I was rather skinny (hard to scrounge meals when everything's frozen and you're literally living on the streets). Levi reminded me not to play too easy to get, so we sauntered off, me thinking I'd return the next day because the tidbits offered were the best meal I'd had in a long time.
I did return the next day and continued to return day after day, each time taking refuge and finding warmth and food and water in Barb's garage. I began to get the idea that she liked me, so I let her pet me. Needless to say, she soon created a palace in her garage for me which was heated (purrrrr, it felt good!) and there was always plenty of fresh water and food waiting for me.
She kept asking my name, and I thought it was Wolfie, but I guess not because she started calling me Sammy (that's a rather interesting but long  story for another time-check it out in my special on Animal Planet soon!).  The name stuck and I rather like it.
I ended up staying and grew into the handsome fellow you now see in the photo. I had jobs around the place which I took seriously (a fellow has to earn his keep after all)–mousing, chasing snakes out of the garage, and keeping Barb's horses company out in the barn. I loved the barn and the sweet smell of the hay and bedding and the horses themselves. It was idyllic. But then one day a big truck came and all these men starting grabbing the furniture and stuff out of the house and putting it in the truck. Most upsetting! The horses were put in a separate trailer and driven off; I never saw them again, but Barb assured me they were going to great homes and would live out their lives happily.
Suddenly Barb put me in her car and we were driving off to who knows where, but there were lots of people around and noise and cars everywhere…oh my, the city! And the city has laws against not only people but animals as well. Cat leash laws and licenses…what??? No way am I giving up my freedom to be micro-chipped and have my entire goings about known to Big Brother all the time. Hiss, hiss, scratch, scratch!! So now I'm an "indoor" cat and sit and look out the windows watching the world go by.

But I digress. Seems Barb got this vision that she was supposed to do a radio show and somehow, very quickly, she was able to pull the whole thing off. She's quite the manifestor. Now we do a weekly show on the Genesis Communications Radio Network every Saturday night from 9 PM – Midnight Mountain Time (8PM Pacific and 11PM Eastern), and I have my own chair on the set (she hasn't said when I get my own mic though). I have my opinions and hope to share them with you from time to time, if not on air, then at least in writing.
Purr-haps I can even get a show of my own one of these days, because Barb's not the only manifestor in this family! MEOW! (Side note:  Sammy's quite the manifestor as well, because he was filmed by Animal Planet for an episode of Cats 101.)
LINK FOR SAMMY ON CATS 101:
Listen to the Show Live Every Saturday 8 pm-11 pm PT and 11 pm-2  am ET